Morgan's Magnificent Marching Machine inducts first female drum major in decades
Morgan's famous Magnificent Marching Machine welcomed its second female drum major in its history.
Angel Mitchell, a member of Morgan State's marching band and senior health education major, never expected to make university history when she first picked up her clarinet in the third grade. 
Although she was a drum major in her high school band, Mitchell knew that the role of drum major usually belonged to her male counterparts.
Now decades into her musical career, she has been named Morgan's first female co-drum major in half a century. 
With one head drum major and three co-drum majors, Angel Mitchell joins the band's leadership role under newly inducted director of bands, Jorim E. Reid. 
"[When the band director told me I was selected for the position] I was like no way, that never happens. You all are playing with me," she said. 
Mitchell was selected as a candidate for the position this summer during her time in band camp. 
However, Mitchell is not the first woman to hold this position in the Magnificent Marching Machine.
Melvin Miles, Morgan's former director of bands of almost 50 years, received a phone call from a woman claiming to be Morgan's first drum major almost 70 years ago. 
"At this time, my recollection is probably not very helpful because I do not remember the person's name," he said in an email. 
Besides a 1956 graduation photo and the word Miles, there is no record of the mysterious first female drum major.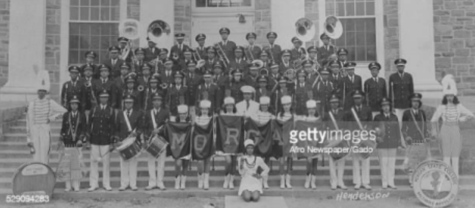 Tory James, head drum major and senior music major, said Mitchell was made for the position. 
"You can look at old videos of her in the clarinet section. She was always one of the hardest marchers in the section," he said. 
He believes that her outspoken personality will push the band in a positive direction. 
Travis Jones, Mitchell's fellow co-drum major and senior electrical engineering major, says that the job of a drum major is to bring the band director's vision to life. 
He and Mitchell had a friendship before becoming co-drum majors allowing room for an unspoken bond between them that shines during performances. 
"Angel brings energy. She brings high praise and high quality. She knows how to connect with the band. She's such a caring person." Jones said. 
Tyrome Fowlkes, senior electrical engineering major, also serves alongside Mitchell as a co-drum major. He says that the concept of a female drum major is not foreign to him. 
During Fowlkes' time in his high school band, a woman was the head drum major. He believes gender has no bearing on a person's leadership or musical ability. 
He is unsure why past band directors have not allowed women to be female drum majors in Morgan's marching band. 
"I do think it's time for Morgan to change. Angel is the perfect fit for the direction that Morgan is trying to go into not only as a band but as a university," he said. 
Reid said Angel's selection was a collective decision after he consulted with past Magnificent Marching Machine drum majors.
"All of the drum majors embody the qualities of work, dedication and sacrifice needed to fill that position," said Reid.