Dan Cox answers long awaited questions in Spokesman gubernatorial forum
Dan Cox answered some tough questions from Tuesday's panel on abortion, critical race theory, his involvement in the Jan. 6 riots at the U.S. Capitol, and his plans if elected the next governor of Maryland.
Abortion, critical race theory, and the Jan. 6 riots at the U.S. Capitol were all at the forefront at the Spokesman's first ever gubernatorial forum Tuesday evening.  
Maryland Republican candidate Dan Cox appeared in the hour-long forum moderated by Antonia Hylton, NBC News and MSNBC Correspondent, in the Morgan State University Student Center Theatre. 
Cox was the only gubernatorial candidate to attend the forum due to Democratic candidate Wes Moore continuously declining the Spokesman's invitation.  
Hylton was joined on the panel by Morgan State students Jordan D. Brown, Editor-in-Chief of the Spokesman, Trae Mitchell, Managing Editor of the Spokesman, and Lena Jackson, host of the WEAA 88.9 Morgan News Hour. 
Collectively, they all came together with research and questions generated from the Spokesman's reporting and the entire panel. 
The forum dove into the various issues dominating the political stage today, from abortion rights, to education protection in the context of critical race theory, to gun laws and safety.  
Each issue holds an individual importance nationwide, and an importance specific to Marylanders today.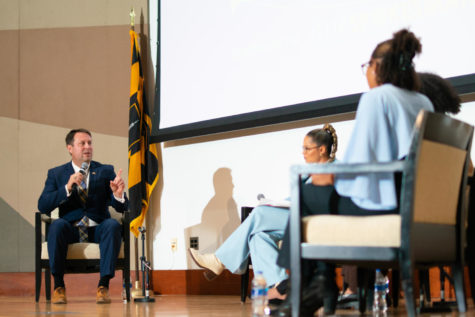 Hylton questioned Cox on his belief in medical freedom against the COVID-19 vaccine, and how it opposed his previous anti-abortion views. 
"I believe firmly in ensuring that women have access to healthcare, for instance I'm very proud of the fact that there are many more women's healthcare centers and women's opportunities particularly also with pre-natal and post-natal care centers, than abortion clinics," Cox said.
"But right now, the issue before us is not so much these moral debates that we've had so long – which everyone knows I'm pro-life – the issue is whether or not we can put food on our children's tables," Cox said. 
When asked about Maryland's historically Black colleges and universities potentially offering contraception and birth control options to students, Cox said he would leave the choice up to the discretion of those state institutions.  
The conversation later shifted focus to critical race theory, an academic and legal framework that denotes that systemic racism is a part of American society
"At a time when you've recently been reeling against alleged critical race theory in schools and criticizing districts that have tried to, in their words, make the experience in school, their educational materials more equitable. Are minority voters going to see you – you know – talking out of that side of your mouth and then this plan and frankly trust you?" Hylton asked. 
Cox used the question to initially redirect the focus to his 17-year long career in civil rights law.  
Cox later said, "What I don't like about critical race theory is it doesn't address this issue- I want to teach Black history, I want to teach the history, all the good, bad, and the ugly, because why? America has always risen from ashes to be better. That's what Frederick Douglass said when he said that he sees the injustice but his hope was the fact that we had a path to fix it because we had this beautiful declaration of independence that laid down the principles…" 
Cox then described critical race theory as Marxism and that "it is a Marxist ideology that actually divides and takes out our history."  
As opposed to critical race theory, Marxism is a socioeconomic analysis method that uses a materialist interpretation of history and explores the relationship between laborers and those in higher classes. 
Though the conversation flowed throughout the night, it hit a bump when the panel brought up Cox's involvement in the riots at the U.S. Capitol on Jan. 6.
Cox repeatedly said he was not involved and had no hand in busing people to the MAGA rally he attended with his daughters.  
Cox said he regrets ever buying the tickets if it meant people believing he had a hand in causing the riots. 
Tuesday's forum with Cox was open to students, faculty and members of the Morgan community.
Kysha Hancock, senior multimedia journalism major and the 78th Miss Morgan State University, said that candidates should be open and honest to the voters of Maryland. 
"I would say when running for governor, the candidates should be honest about their actions," Hancock said. 
The forum ended in applause and appreciation for Cox joining the Spokesman's forum. Cox potentially gained a new followership as he prepares for the Nov. 8 election.  
Cox now looks ahead for the upcoming gubernatorial forum on Oct. 12 led by Maryland Public Television and WBAL-TV. Both Cox and Moore agreed to appear in the televised debate.
A livestream of forum can be viewed on the Spokesman's Facebook page.