Five takeaways from Morgan's 24-9 win against Sacred Heart
A strong defense and afternoon of first downs led the Bears to victory against the Sacred Heart Pioneers. Review the Bears' win in the Spokesman's top five takeaways from Saturday's game.
The Morgan State Bears (1-2) opened their defense of Hughes Memorial Stadium with a 24-9 win against the Sacred Heart Pioneers (1-2) on Saturday in Baltimore.
This was a positive change in fortune for the Bears after two losses to open the season against Georgia Southern and Towson.
Morgan previously faced Sacred Heart twice prior to Saturday's game with their last meeting resulting in a 21-7 loss for Morgan.
Coming into Saturday's matchup, the Pioneers' defense ranked first in passing yards allowed (58 yards per game), third in total defense (183.5 yards per game), and sixth in scoring defense (8 points per game).
It looked to be a tough match for the Morgan offense but ultimately ended in a rout.
From the opening whistle, the Pioneers looked to be no match for a revamped Morgan defense under new coordinator Antone' Sewell.
On the Pioneers' first offensive play, senior QB Marquez McCray's pass was intercepted by Morgan's Carlvainsky Decius, who was given the start ahead of sophomore defensive back Bryan Stukes.
The Morgan offense was granted fantastic field position after the interception but was unable to find the endzone on their opening drive.
However, they were able to open their account through a 20-yard field goal from sophomore kicker Beckett Leary.
Morgan extended their lead through a 12-yard pass from sophomore quarterback Duce Taylor to postgraduate wideout Avery Jones to make it 10-0 Morgan with 14:14 remaining in the second quarter.
Senior quarterback Carson Baker started the game, rotating at times with Taylor, but exited the game towards the end of the second quarter after sustaining a hit earlier in the game.
Before Baker exited the game, he showed poise in the pocket and moved Morgan down the field efficiently.
The injury to Baker made way for Taylor to get his first taste of extended action this season. He impressed when given the opportunity and led all of Morgan's touchdown drives on the afternoon.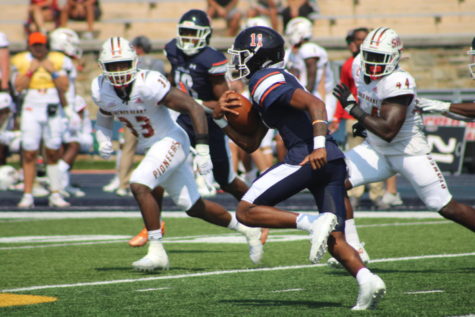 The Pioneers were eventually able to score through a Morgan-mishap.
On fourth-and-12 at the Morgan 24, senior Tyreke Brown blocked freshman Jordan Amadi's punt out the back of the endzone for a safety that cut Morgan's advantage to 10-2 with 10:42 left in the second quarter.
Morgan went into halftime up 10-2 and dominated the remainder of the game.
Running backs Jabriel Johnson and Alfonzo Graham extended Morgan's advantage to 24-2 through rushing touchdowns of three and 12-yards.
The Pioneers were held to two points on offense until McCray threw a late consolation touchdown to make it 24-9 with 13:14 to go in the fourth.
The Bears will take their bye this upcoming week before returning to action at Hughes Memorial Stadium where they will take on the Virginia University of Lynchburg Dragons on Oct. 1.
Kickoff will be at 12 p.m. as the Bears look to improve to 2-2 on the season.
Here are the five takeaways from Morgan's 24-9 victory against Sacred Heart.
Three-pronged rushing attack of Graham. Taylor, and Johnson something to look forward to
Morgan rushed for 142 yards and scored twice against the Pioneers. The rushing attack was led by Graham (13 carries, 74 yards, one touchdown), Johnson (11 carries, 40 yards, one touchdown) and Taylor (six rushes, 15 yards.)
The Bears were able to turn to their ball carries as they closed out the game. It will be something to look out for this season as the Bears look to establish a style of play.
An afternoon of many firsts
This afternoon was one of many firsts for the Morgan football team:
The Morgan defense captured its first three sacks of the season through Stukes; one sack, Sean Morris; one sack, Elijah Williams; half sack and Nana Asante; half sack.
Taylor threw his first touchdown pass of his Morgan State career.
Damon Wilson recorded his first win as Morgan head coach.
Special teams' mishaps almost rue the afternoon
Morgan dealt with special teams' errors and miscommunications all afternoon. The Pioneers scored their first points on the afternoon by blocking a Morgan punt in the second quarter.
Another blocked punt came later in the second quarter by junior Payton Rhoades. Sacred Heart then took possession at Morgan State's 22 with 2:32 remaining.
The Bears defense forced the Pioneers into a three-and-out, and the offense ran out the clock to enter halftime with the 10-2 lead.
Sacred Heart also contributed to the poor special teams showing, missing a 40-yard field goal with 3:26 remaining in the second quarter.
Penalties galore
Penalties severely disadvantaged both teams. Sacred Heart accrued 186 yards of penalties from 10 penalty calls while Morgan had 11 penalties resulting in 114 yards.
Morgan's defense led the way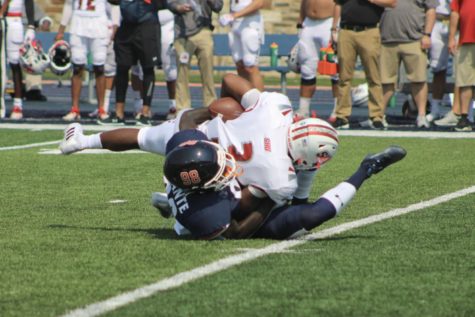 The young Morgan defense showed they learned from their early season setbacks, not allowing the first offensive points until 13:14 remaining in the fourth quarter. They held SHU to 235 yards of total offense and the defense did not stop there.
The team was led in tackles by junior linebacker Lawrence Richardson, with 10 total tackles. He was aided by the performance of Asante, the sophomore defensive lineman who finished the afternoon with 3.5 tackles for loss, 0.5 sacks, and 5 total tackles.
Defensive backs Decius and Jae'veyon Morton chipped in with an interception apiece as it amounted to a standout performance by this hungry defense.