Power 5 to HBCU: Jordan Toles returns to hometown to play for Morgan State
Defensive back Jordan Toles transferred to Morgan State University for a "better opportunity" to display his skills on the field.
Jordan Toles made the decision in August to transfer from Louisiana State University, 2019 NCAA national champions, to Morgan State.
The junior defensive back returned to his hometown Baltimore, looking to revamp Morgan's defense.
"Things got to the point where I felt as though my place was somewhere else," Toles said.
This is not the first time a historically Black university has seen a high-profile football recruit sign for its football program, but landing Toles' signature is seen as a step in the right direction for a rejuvenated Morgan football program under Damon Wilson.
Toles' energy is something that looks to be the driving force this season for Morgan. He already popped up in a big way this year for Morgan; Toles intercepted Georgia Southern QB Kyle Vantrease with 9:42 remaining in the second quarter and returned it 50-yards for the first points of Morgan's season.
BT Sherman, offensive coordinator and quarterbacks coach said, "When he first got here even before he was practicing, he just brought life. He brought life to us. He was happy to be here. You could tell the kid was happy to be home and playing some good football."
Toles was once lauded as a four-star safety by 24/7Sports, Rivals.com and ESPN while playing at St. Frances Academy in Baltimore. He led the St. Frances football team to a 11-1 record his senior year and finished the season with 41 tackles, three interceptions, three fumble recoveries and two defensive touchdowns.
While contributing to his school's gridiron success, Toles was also a standout on the hardwood.
He was a three-star prospect in basketball, leading the St. Frances basketball team to the Maryland Interscholastic Athletic Association A Conference and Baltimore Catholic League championships with a 38-6 record, averaging 12 points, five rebounds and three assists.
At St. Frances, Toles was given multiple scholarship offers from "Power Five" schools to pursue the option of being a dual-sport athlete at the Division-1 level.
"Power Five" refers to the group of conferences that generate the most athletic revenue in the NCAA and have the autonomy to create rules. The group includes the Big Ten, Big 12, Atlantic Coast Conference, Southeastern Conference and Pac-12.
He later committed to LSU on June 8, 2019 and played football there for two seasons.
Toles initially chose LSU because it "felt like home to him" and that it is known throughout college football as "DBU" or Defensive Back University, due to its storied history of producing NFL-level defensive backs.
The playstyle of LSU defensive backs has been very influential on how Toles likes to play football.
"I feel like I'm blessed to have the skillset that I have, so I can kind of mold my game after a couple different players. If I was to play on the outside as a corner, Patrick Peterson but when it comes to safety, Derwin James or Jamal Adams," Toles said.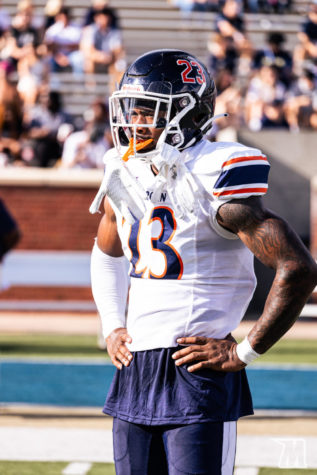 Melvin Coleman, safeties and nickels coach for Morgan believes the SEC experience Toles can bring to the team will be beneficial to Morgan in all facets of football.
"I think it's good to have so …he can share his knowledge of playing at that level (in the SEC), what's the difference? What they (other players at Morgan) could take? I think it is good as far as a recruiting standpoint. Maybe some other guys who might be interested in thinking that they can come here and still make it [to the NFL] and have a impact on the program," Coleman said.
Coleman was quite involved when it came to recruiting Toles to Morgan, a football team that has not held the Mid-Eastern Athletic Conference title since 2014.
"I had worked with him (Toles) before … from a training aspect. And then when I heard the news, he's going to be in the portal, it was like, 'Come on, man, this is a no brainer right here,'" Coleman said.
When asked about why he joined Morgan, Toles said, "I saw a better opportunity for myself, to display my (ability) and skillset."
He did not see a lot of game time during his time at LSU, appearing in 14 games over his two seasons in Baton Rouge. He acknowledged that being near family and his home life would help as he prepares for life at a new school.
"And then coming home was just a better mental thing too for me as well. Just being home, closer to family, closer to my people and knowing I'll be able to (get to) work," Toles said.
Toles is not the only player at Morgan to make the jump from the Football Bowl Subdivision (FBS) to the Football Championship Subdivision (FCS.)
Graduate transfer quarterback Carson Baker shares a similar experience in that aspect. He first started his college career at San Diego State before transferring to Western Kentucky University and then Morgan.
Baker said he doesn't see there being "much of a difference" and that "football is good at any level."
"I think football is good at any level. FBS to FCS, I haven't seen much of a difference. The guys we have (at Morgan) have a winning culture, great attitude at practice. I think it's pretty similar to every program that I've been in," Baker said.
Toles also looks to change the mentality of the players at Morgan. He sees it as one of the most important attributes he has to offer to a Morgan football team that went 2-9 last year.
"I feel as though attitude is something that any team can improve on. I feel like I bring that mentality to the team. A physical attitude and skill set and a will to win," Toles said.
Players on both sides of the ball believe Toles contributes to the attitude that is being set on and off the field under Wilson in this new-look Morgan team.
"He's a funny guy, man. He's always talking. And he's a great guy to have on the team," Baker said.
Darrius Outlaw, a junior defensive end, said, "Although we're not in the same position, we're on the same side of the ball. We're both defense and he brings a lot of energy. He brings a lot of energy to our side and on the field, and he's a team player off the field."
Toles' coaches are also impressed by how quickly he was able to gel with his teammates at Morgan. He announced his transfer to Morgan on Aug. 27 and was already on the field playing against Georgia Southern on Sept. 3.
Sherman said, "I don't coach him but just being around him, you know, you got some guys that pull negative energy out and you got some guys that give energy and he's one that definitely gives energy. I think he's gonna bring a lot of energy to the team (and) the community."
Toles' position coach, Coleman, echoed similar sentiments.
"A lot of guys come from the higher level, they're used to having certain things, having things a certain way. You think he (Toles) would have come in on some power trip-type deal, but he's really been a very good teammate, like surprisingly a really, really good teammate," Coleman said.
Morgan looks to bounce back after losses to Georgia Southern and Towson to open the season, and the Morgan community hopes Toles plays a part in that.
With Morgan's homecoming game approaching on October 8th, this week's home game against Sacred Heart will not only be Morgan State's first home game of the season, but Toles' true homecoming game.
The Bears face Sacred Heart on Saturday at 12 p.m. at Hughes Memorial Stadium.