Five takeaways from Morgan's 31-0 loss against Towson
Freshman Duce Taylor shows future potential, head coach Tyrone Wheatley takes blame for loss and more. Here are the top five takeaways from Saturday's game.
After 650 days without playing a game, Morgan's football team took the field once again this past Saturday in front of a loud, excited home crowd as they faced Towson University in the Battle for Greater Baltimore Series.
Towson defeated Morgan 31-0 and dominated the Bears in practically every facet of the game.
Prior to Saturday's game, the teams last played each other Sept. 1, 2018, when the Tigers defeated the Bears 36-10.
Three years ago, the Bears were coached by interim head coach Ernest T. Jones, their starting quarterback was DeAndre Harris, and they were led on defense by linebackers Rico Kennedy and Ian McBorrough.
Saturday's game had a different look with the Bears' third-year head coach Tyrone Wheatley.
Additionally, many of Morgan's key players were making their debut in a Bears uniform such as quarterbacks Neil Boudreau, Jairus Grissom, and Duce Taylor, running back Jabriel Johnson, and safety Jeremiah Bryant.
Of the 96 players on the team, 68 of them are underclassmen.
Suffice it to say, Morgan currently has a drastically different roster than it did three years ago.
Despite the change, Morgan was defeated by Towson in a similar fashion that they were in 2018.
Here are five takeaways from Saturday's game.
Morgan head coach Tyrone Wheatley accepts blame for loss 
Head coach Tyrone Wheatley did not shy away from blame for his team's blowout loss.
Wheatley said that it is his responsibility to help prepare his team and that the team needs to do a better job of implementing fundamentals.
"I ultimately have to get these guys better prepared," Wheatley said.
Starting quarterback Neil Boudreau struggles in his first collegiate start at quarterback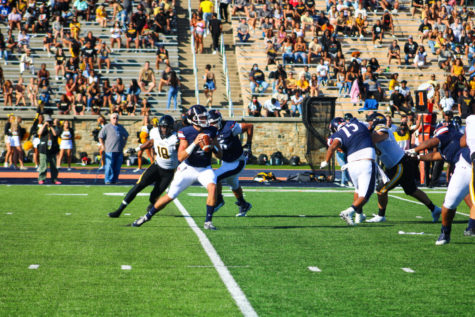 Graduate San Diego State transfer Neil Boudreau started at quarterback and punter for the Bears on Saturday. Boudreau had not seen action at quarterback since his playing days at University High School in Irvine, Cal.
He played quarterback for six of the Bears' seven first half possessions and threw nine passes for four yards with a 22.2 completion percentage.
Boudreau did not see any snaps at quarterback in the second half but continued to punt the ball.
He finished the day with nine punts with an average of 41.8 yards per punt. Additionally, he had one punt inside of Towson's 20-yard line.
Despite Boudreau's struggles, Wheatley still has confidence in him.
If the head coach did not believe in Boudreau's abilities, "he wouldn't have been our starter," Wheatley said.
True freshman quarterback Duce Taylor shows flashes of his potential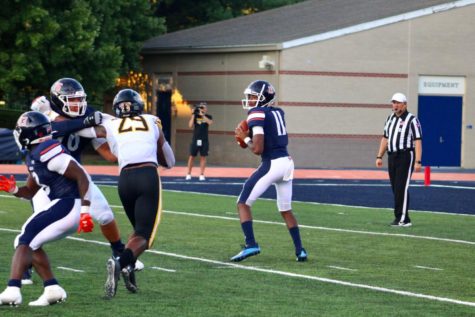 True freshman quarterback Duce Taylor (3-for-9 for 68 yards) started at quarterback for the Bears in the second half. Junior Eastern Michigan transfer Jairus Grissom also saw some snaps at quarterback.
While the Bears were still held scoreless, they were able to pick up six first downs in the second half compared to only one in the first half.
Some defensive players shine despite blowout loss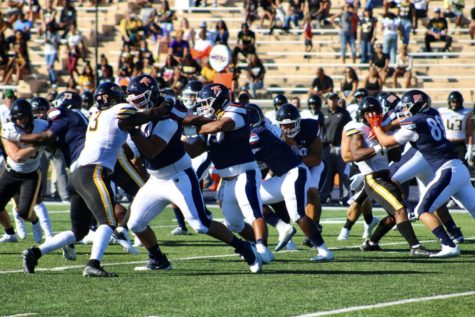 Towson picked up 23 first downs in the game compared to Morgan's seven. Their offense was also on the field for 32:01 compared to 27:04 for Morgan.
Consequently, Morgan's defense was constantly on the field doing their best to get stops. While they conceded four touchdowns and a field goal, some defensive players were able to shine.
Graduate student Kalen Jennings and redshirt junior Devan Hebron each recorded a sack. Junior safety Jeremiah Bryant also intercepted a pass thrown by Tigers' quarterback Jeff Miller.
"It felt good," Jennings said in regard to recording a sack. "Just to know I can help our team out on third down. It felt really good."
Lack of fundamentals hurts team
The Bears committed 10 penalties for 84 yards in Saturday's game. Grissom also had a fumble which was recovered by Towson.
After a long hiatus from competing in actual games, it's reasonable to expect players to need some time before getting used to playing again.
"It's been three seasons since I played a game," Jennings said.
Wheatley believes that the team will need to improve on their fundamentals heading into next Saturday's game against Tulane.
"We clean up the technique," Wheatley said, "I think we'll be okay."