Spring commencement marks new beginning for students, campus
Family and friends gather in-person to celebrate the graduating classes of 2020 and 2021
Morgan State University's spring 2021 in-person commencement marked the beginning of a return to normalcy for Morgan's graduates, family, and administration.
With approximately 1,500 attendees, President David Wilson said the commencement was an opportunity to celebrate graduates' accomplishments and recognize them for overcoming many obstacles this season.
"The university needed this," Wilson said, "We need to our arms around hope again. We need to begin to welcome back the Morgan traditions and the Morgan ceremonies. These three came at the right time."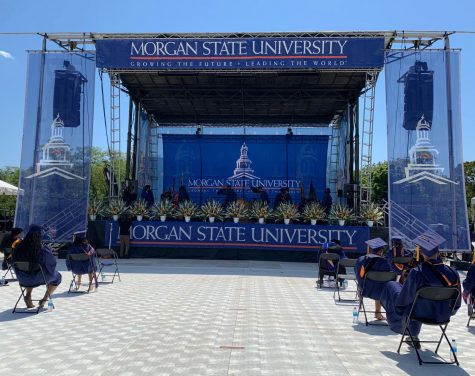 In addition to Saturday's commencement, the university held commencement exercises for 2020 undergraduates and graduate students Friday.
"[Out of] all of the commencement ceremonies, this year were some to the most spirited that I have seen in my 11 years as president," said Wilson.
Following Morgan tradition, the commencement included a performance of the Negro National Anthem by Makayla Banks, the invocation by Reverend Bernard Keels, and a speech by commencement speaker Dr. Michael Drake, president of the University of California.
"When I first heard the word commencement, it seemed like the wrong word to me," Drake said, "But then I learned that actually, that commencement is the beginning of the rest of your lives."
Drake explained his family's story began with his parents on Morgan's campus. His mother from Ohio and father from New Jersey, met at Morgan in 1933, and graduated in 1937. Drake's mother convinced his father, who was more concerned about football than schooling, to take his education seriously.
"Morgan State was the beginning of my parents' story," said Drake, "and it prepared them for chapters that came later when they became pillars of their communities and agents of change."
Through his own family's experience at Morgan and his profound interpretation of a commencement, Drake declared Saturday's commencement was a new beginning in the graduates' lives.
"Your real future is going to be a future that you're actually in, that you create," Drake said, "There is great need and great opportunity for you to help heal the world and to heal what is wounded in our world."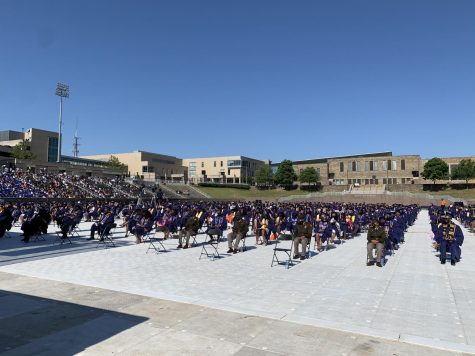 After Drake's speech, several students were awarded for their excellence during their tenure at Morgan, including David Owe. A new graduate from the school of architecture and planning, Owe received the President's Creative Achievement Award during the commencement exercise.
"This is just the beginning," Owe said, "This is a symbol of if you put your mind to it, you can achieve whatever you want, no matter the circumstances that you're in."
Owe expressed his graduation was valuable to him and his family as his father joined him for the in-person commencement and shared the live stream with his family in Nigeria.
He remembered his stepmom during this celebratory moment, who passed away from cancer before she could see him graduate.
"It [was] a really touching moment when I got to this point because she was always believing in me and pushing me to get ahead," Owe said, "I'm excited. I'm happy, but I was shaken at that time."
Owe's family instilled in his care for the community. This care led him to work with the Planation Park Heights Urban Farm during his stay at Morgan and help people during the pandemic.
"Always remember the people around you matter, and you're doing it for them," Owe said.