Morgan State senior forward becomes first player to win both high school, college dunk championships
Five years ago, Troy Baxter Jr. competed in and won the American Family High School Slam Dunk Contest. On April 1, the Morgan State senior forward was crowned champion of the 2021 State Farm College Slam Dunk Championship, making history as the first player to ever win both a high school and college slam dunk contest.
The dunk contest, which was held at Hinkle Fieldhouse in Indianapolis, IN, was filled with top dunkers from across the nation including Isaiah Miller from UNC Greensboro, Unique McLean from St. Francis Brooklyn and TJ Crockett from Lindenwood. The judges for the event included ESPN analysts Jay Bilas and Monica McNutt, former college player King Mclure and former NBA players Danny Manning and Kendrick Perkins.
"Out of all the top dunkers, I became the first one to do that," Baxter Jr. said. "It means a lot, It definitely means a lot."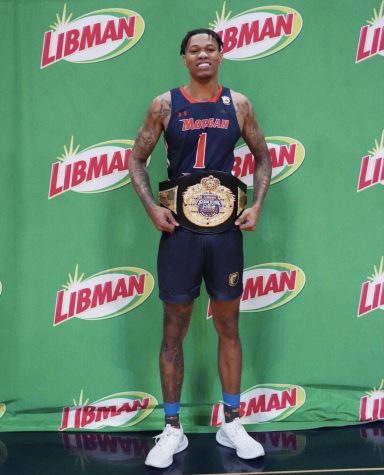 Baxter Jr., whose natural athletic ability helped him average 1.75 blocks during his two seasons with the Bears, said he prepared for the event for about four days. His first and favorite dunk of the night was a two-handed reverse windmill dunk, which earned him a score of 44.8 out of 50.
Miller was the leader of the first round with a near-perfect score, 49.9. However, he had to withdraw from the event in the second round after suffering a leg injury.
"I think out of all the dunk contests I've been in, not one person has been hurt before," Baxter Jr. said.
Nevertheless, Baxter Jr. posted a near-perfect score in the second round after completing two impressive dunks. For his first dunk in the second round, he threw the basketball off the backboard and used his 45-inch vertical to catch the ball, throw it in between his legs in mid-air and throw the ball down the hoop.
For Baxter Jr.'s second dunk in the second round, he threw an alley-oop dunk to himself while jumping over Rutgers guard Arella Guirantes. His overall score in the second round was 99.8.
In the final round, Baxter Jr. competed against Crockett.
After Crockett failed to complete a dunk, all Baxter Jr. had to do was make a dunk to win the contest. But after failing to convert on two difficult dunk attempts, he settled for a simpler alley-oop dunk.
The judges gave Baxter Jr. a 44.3, which was enough to win the contest.
"He's an athlete," Bilas said after Baxter Jr. completed his final dunk. "That was fun to watch."
After winning the contest, Baxter Jr. was greeted by Morgan assistant coach Brian Merritt, who said he was proud to see him win the contest.
"This was the cap on a productive two years of work," Merritt said in a Twitter post.
The day after the slam dunk contest, Baxter Jr. competed in the 3-on-3 National Tournament but his team was eliminated in the first round. Now that his college career is officially over, he said he is focused on the next step.
"I'm definitely pursuing my career in the NBA," he said.