Coronavirus hinders traditional homegoing services in Black community
Jason James , Baltimore Reporting Project
August 25, 2020
Evelyn Lorraine Miller, the 83-year-old "Madea of the family," never missed a family event, especially for her grandchildren. An entrepreneur who sold snow cones in her East Brooklyn neighborhood, Miller instilled in her family the importance of being independent and self-reliant.
"I am the woman I am today because of the woman my mom was," said her daughter, New York Police Sgt. Caroline McMillan.
Six years ago, Miller and her daughter made funeral arrangements at the Bell Funeral Home in Brooklyn. She carefully handpicked a casket, the floral arrangement for the ceremony, and even the letters that would notify her friends and family. But when Miller died of COVID-19 on March 28, her family was left scrambling to find a local funeral home that would accept a coronavirus victim.
Miller's funeral was held at Unity Funeral Chapels in Harlem, far from her Brooklyn neighborhood where she had lived for more than 45 years. Only five people attended the service including her granddaughter Brijhai McMillan, a junior at Morgan State University. 
During the ceremony, Caroline McMillan noticed a slip of paper on top of her mother's casket that nagged at her curiosity throughout the service. The note read, 'Toxic: Biohazard."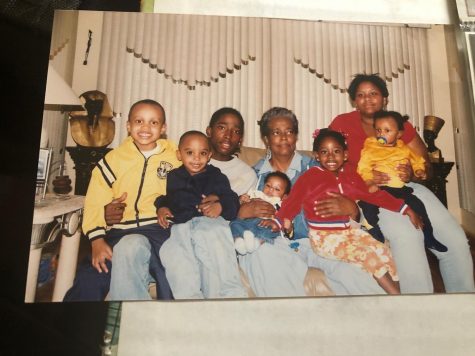 The McMillans' experience is similar to hundreds of thousands of families in the wake of the COVID-19 pandemic, which has killed over 160,000 people nationally and more than 700,000 worldwide. This has been particularly impactful for Black families whose home-going rituals are prominent cultural and spiritual events. 
Marco Merrick, the founding director of The Community Concert Choir of Baltimore and former lecturer at Morgan State University, has performed at dozens of funerals every year. "The funeral process is a real act of closure for folks, so [this] is a real challenge. Generally, in the Black community funerals take place in the context of a church or a mosque or even a funeral home. But even in the funeral home they make it a religious process," Merrick said.
Black funeral traditions often begin in a hospital room with family and friends, as they comfort their loved one in their last moments. In some cases, there is a viewing where people gather to pay their respects, tell stories, and share food. The ritual continues in a place of worship where the deceased is celebrated with a religious service paired with stories, singing, reciting prayers and reading from sacred texts.  These common practices have been curtailed in the wake of the COVID-19 pandemic.
Merrick, who attended numerous funerals since the pandemic began in March, said they have been "unsettling for people who have a different expectation of what that should be in terms of the history of funerals."
Due to COVID-19 protocols, all home-going rituals have been altered, regardless of whether the virus was the cause of death. Simone Barrett discovered this after her mother, Shirley Barrett, 84, died of breast cancer April 16 in Baltimore. 
"There was a noticeable lack of control compared to funerals I'd made arrangements for before." Barrett said. Although the family preferred her funeral to be held at the church they'd long attended, the Greater Gethsemane Missionary Baptist Church in East Baltimore, it was closed due to the pandemic.
They held the service in a chapel at the King Memorial Park cemetery, and after negotiating with the funeral directors, were allowed more relatives and fewer staff during the ceremony. "We all had the stance of, 'Why do you need to be in the room if it limits the amount of family who can attend?'" Barrett said.
Throughout the U.S., people are finding ways to mourn their loved ones while complying with quarantine measures, from creating online memorials, to sharing their experiences on social media, and even attending memorial services via Zoom.
In many circumstances, families are physically unable to attend funerals for their loved ones, as was the case for E.R. Shipp, a professor at Morgan State University, when her nephew Christian Marcel Shipp died in a car crash on May 31.
A 25-year-old budding entrepreneur and 2018 Morehouse graduate, Christian Shipp was buried at the Green Meadows Memorial Garden in Conyers, Georgia. The service, held on a rainy Friday morning, was live streamed over Vimeo.
Back in Baltimore, his aunt, E.R. Shipp, sat on a bench underneath a tree near a koi pond and, like thousands of others in the age of the coronavirus pandemic, watched the funeral from her laptop.  
Many people will have to cope with "lingering trauma" after strict isolation measures have made it difficult for mourners to be present with loved ones during their final moments, says Dr. Jasmine Ward, a public health professional in Arlington, Texas, and founder of Black Ladies in Public Health.
"We start thinking of these people as just percentages; but, in reality, these are people's lives. Every single day of the week we lose somebody; and as a country and a nation we haven't been able to deal with that," Ward said.
Ward, along with 12 of her colleagues, launched a website called United Memories as a virtual memorial for Black people who died of COVID-19. The site, which includes a collection of photos, also provides links to resources for people who are grieving, and organizations specializing in mental health in the Black community.
"We have to be willing to hold onto those sacred rituals that make us who we are, even if they seem disconnected or improvised," Ward said.
Jason James is a senior multi-platform production major in The School of Global Journalism and Communications. He has contributed to the Baltimore Reporting Project this summer.