Wilson briefs faculty on fall return; students get update Friday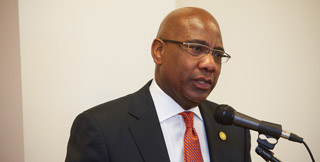 Morgan State President David Wilson laid out a plan for a return to instruction when the fall semester begins in September, while announcing the postponement of annual Homecoming festivities.
In virtual town hall meetings with campus faculty and staff Thursday, Wilson discussed several topics concerning the fall 2020 semester. While some information had been previously reported such as facial coverings being required on campus, Wilson presented new information, including:
There will not be a face to face homecoming celebration. Instead, the university will hold a "virtual Homecoming gala" that will be accessible via computer or mobile device.
The spring 2020 commencement which had been rescheduled from May to Oct. 15 has been postponed again until a later date.
There will be a student emergency fund where students can apply to borrow computers, laptops, hotspots, and more materials needed to complete their schoolwork.
Students are not required to get tested for COVID-19 prior to returning to campus, but it is highly encouraged.
With the number of COVID-19 cases rising daily and breaking new records across the country, Wilson emphasized his main focus for reopening the campus is ensuring the safety of the Morgan community.
"One basic principle that is guiding our reopening is safety," Wilson said, "We want to create a safer university environment and we want to have in front of us guidance from the CDC (Centers for Disease Control) and the local health departments."
Students will have an opportunity to question Wilson and members of the administration during a Friday virtual town meeting at 11 a.m.
Lesia Crumpton-Young, Morgan's provost and senior vice president for academic affairs, said the university will resume class instruction in the fall via three methods:
Face to face instruction; students will be permitted to go to class in person if they are are wearing a mask.
A combination of face to face and remote instruction; students will have the choice to attend class in person with their professor or attend class remotely in another building or at home via video.
Completely online; classes will be held online with no face to face instruction.
In addition, Crumpton-Young announced the university will continue their pass/fail grading system option introduced last semester, but this semester students will know their grade before choosing the pass/fail option.
"Since we have more time and planning for this," Crumpton-Young said, "Our students will have the opportunity to see their grade prior to the deadline for making their selection whether to participate in pass/fail."
To determine what students would travel to class for in person instruction or go to class remotely, students were randomly selected to receive either in person learning or remote learning. However, students have the option of changing their delivery of learning whether they prefer in person or remote learning.