'Although it's not in person, it's something': class of 2020 honored in special virtual recognition ceremony
Morgan's first virtual commencement graduates nearly 1,000 students
A day that began as a graduation viewing party with senior Cameron Potts, his mom and sister turned into a celebratory flash mob in his honor. Around 12:30 p.m., he was greeted by a row of cars filled with his friends, family, and fraternity brothers who shouted congratulations on his milestone through their windows.
Cameron's sister Candace Potts—who graduated from Morgan State in 2013—orchestrated the surprise. Although she was saddened that her brother didn't get to have the traditional graduation experience, like many other students across the country, she appreciated the effort behind the university's virtual recognition ceremony. 
"I can't speak for any other colleges and universities, but I know my HBCU is sending us out as best as possible," Cameron said. "And I appreciate it because although it's not in person it's something."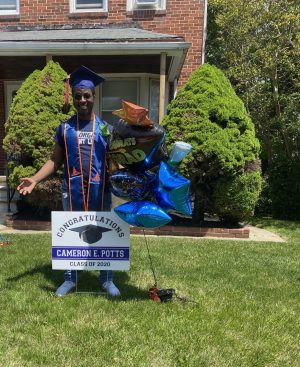 On Saturday morning, the university recognized nearly 1,000 graduates virtually with a special ceremony for the first time in Morgan history. The 46-minute video began with the traditional graduation song and a heartfelt address from University President David Wilson. 
Speakers including Former President Barack Obama and Rep. Kweisi Mfume, the board of regents chairman, made appearances. Mfume spoke directly to the graduates. He acknowledged the unique hardships that this year's students had to overcome and emphasized the ties that graduates will always have to the university. 
"You understand your calling in a different way and that once this moment is behind you and you look onward to building your future, you will understand why you were given such a strong and daunting challenge," Mfume said.   
Grasping a virtual ceremony and postponement of graduation until Oct. 15 was not only a hard pill to swallow for many, but a break in tradition. 
Candace said that she admires the hard work her brother put in during his years as an undergrad and respects the university for giving the graduates an opportunity to have a memory on their actual graduation day, even if it differed from her experience. 
Cameron, following in his sister's footsteps, was an active member of the university choir. But according to Candice, he played a larger role than she had. 
"Because he was close to [Choir Director Eric Conway] I believe he's gonna feel it [eventually], but not now," she said.  
Cameron himself appeared in multiple parts of the video to share a few words to the Morgan community and the choir member appreciated the virtual ceremony. 
The choir typically performs at every commencement, but this year, its rendition of  "We Are The World," was incorporated into the celebration. 
Other graduates had a different take on the day's events. 
Keyon Grayson, multimedia journalism graduate and student government association president, resonated with the message of overcoming hardships and continuing to move forward. With unexpected events that derailed his administration's fall plans, he walked into the spring semester with newfound determination, unaware that his plans would change yet again when the coronavirus swept the globe earlier this year. 
On March 13, he was presented with the issue of graduation postponement and moved into action not knowing the final result would be. 
Although the university's administration did not go with Grayson's proposed dates for graduation, he found a way to enjoy the alternative and planned a day around the ceremony, including a social distance watch party. 
"We won't have 100 people, there won't be anything crazy, just something where we can get together and watch graduation together," Grayson said. "A lot of my friends graduated last year…so being able to do that and share that experience with me, even if it's a virtual commencement, is amazing." 
Imani Dews, former senior class president and finance graduate, knew she wanted her graduation speech to be centered around the sweat and tears it took to make it to the finish line. What she didn't expect, like other speakers in the video, was that the speech would be focused on the perseverance needed to finish strong during a pandemic. 
"Just highlighting us, although this is a really disappointing time and we are met with this adversity, still being able to say we're graduating during this is a really big accomplishment," Dews said. 
As the daughter of two HBCU alums, she valued the university's efforts to recognize the graduates today and again on Oct. 15.
"I feel like if they would have just let that day pass without any recognition that would have not gone over well," Dews said. "It'll really be historic if it does happen in October to be included as a part of homecoming festivities. We'll be the first and only class to probably have a graduation during homecoming."