Spokesman Staff Quarantine Cookbook
Spokesman breaks down 8 hassle-free recipes with common pantry staples
Maryland's stay-at-home order has probably decreased the number of times you've visited your go-to eatery and increased the hours you've spent cooking in the kitchen. As the days of social distancing begin to feel indefinite, The Spokesman understands that the motivation to cook has begun to fade and the cereal in the pantry has gotten more playtime than you would like to admit.
So, we've compiled eight quick and easy recipes to satisfy whatever you're craving, whenever you're craving it–because we don't judge 3 a.m. cooking chronicles.
No. 1: Trae's Wholesome Oats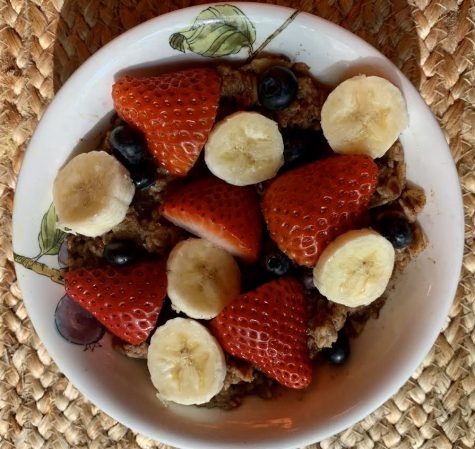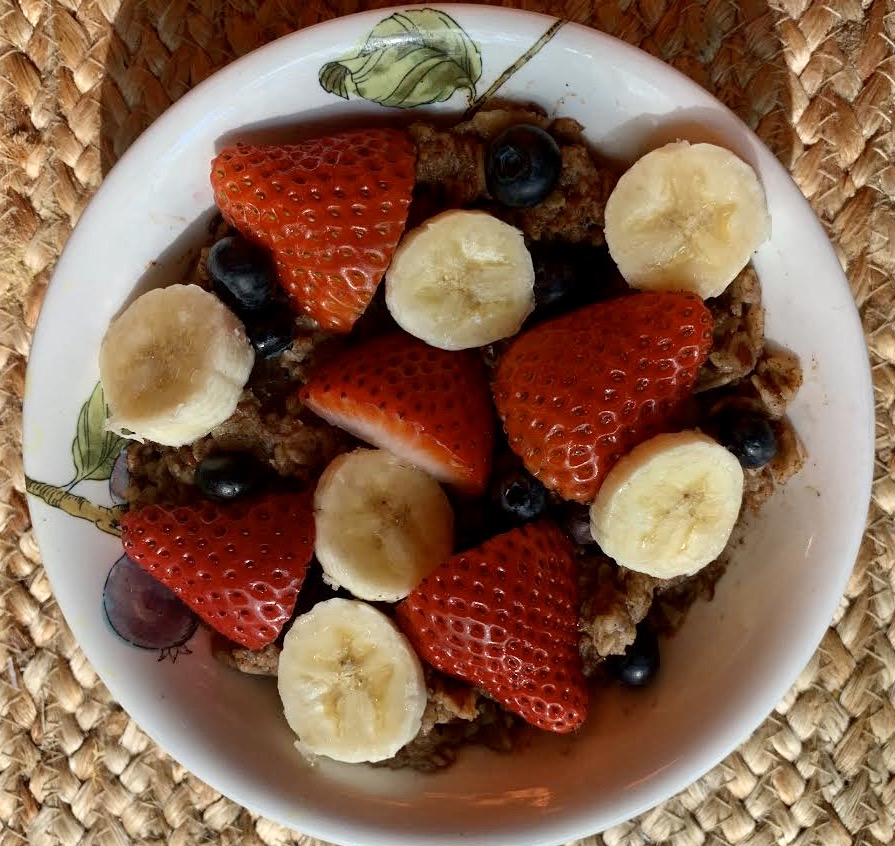 Cozy up next to a bowl of hearty and sweet oatmeal that'll satisfy a sweet tooth without the guilt.
INGREDIENTS: 
2 cups rolled oats
2 cups almond milk
1 tbsp flaxseeds
2 bananas
1 tbsp cinnamon
1 tbsp pumpkin spice
1 tsp vanilla extract
1 tbsp maple syrup
Handful of strawberries
Handful of blueberries 
STEPS TO FOLLOW: 
Pour almond milk into a medium-sized pot on low heat.

Add cinnamon, pumpkin spice, vanilla extract and maple syrup into the pot and stir until evenly mixed.

Add oats and flaxseeds into the mixture, stir and reduce heat to low.

Add one sliced banana and stir it into the oatmeal.

Allow the oatmeal to thicken to a desired consistency and stir.

Plate with strawberries, blueberries and one sliced banana to garnish.
Pair with a warm coffee or tea and enjoy a wholesome breakfast.
No. 2: Brianna's Southwestern Tofu Scramble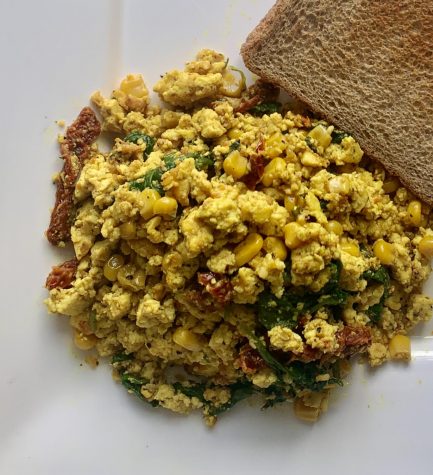 A plant-based meal packed with protein, carbohydrates and antioxidants in less than 20 minutes.
INGREDIENTS: 
1 block of extra-firm tofu
2 cups spinach 
1 cup corn (frozen, fresh or canned) 
1 tbsp sun-dried tomatoes 
2 cups vegetable broth or warm water 
Cooking oil 
1 tbsp salt 
1/2 tsp cumin 
1/2 tsp turmeric 
1 tsp garlic powder 
1 tsp lemon pepper 
1/2 tsp ginger powder
STEPS TO FOLLOW: 
Bring a skillet with cooking oil to medium heat.

Squeeze or press excess water from the tofu. Cut a quarter of a block of tofu to use and store the remainder in the refrigerator for next time. 

Fork the tofu in a separate bowl until it mimics the appearance of scrambled eggs. Transfer the tofu to the skillet.

Add salt, cumin, turmeric, garlic powder, lemon pepper, ginger, and one cup of vegetable broth to the pan.

Cook for 7 minutes.

Cook spinach, corn and sun-dried tomatoes in a separate pan. Once the spinach has begun to wilt, transfer ingredients into the pan with the tofu and toss until the ingredients are combined.

Add one cup of broth to the pan and reduce heat to low. Cook for an additional 5 minutes.
Serve with toast and enjoy.
No. 3: Oyin's Bacon Lover Breakfast Sandwich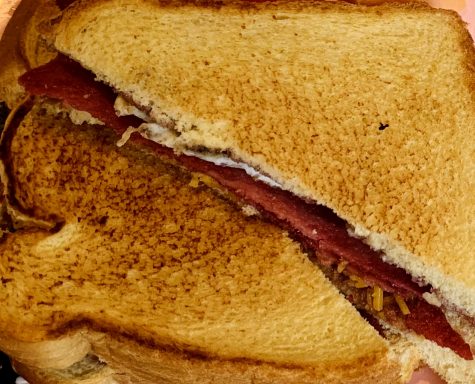 The perfect bacon, egg and cheese breakfast sandwich for any time of the day. 
INGREDIENTS: 
1 egg
2 slices of bread 
1 onion
2 slices of bacon 
Pinch of salt 
Pinch of pepper
1 tbsp jelly
1 tbsp butter 
1 slice of cheese
STEPS TO FOLLOW: 
Add butter into a medium-size skillet and heat on a low flame until the butter melts. 

Crack an egg into the pan and cook on medium heat. 

Once the white of the egg is cooked, flip. For a harder egg, break the yolk before the flip.

Add salt and pepper to the egg and transfer to a plate to cool.

In the same pan, add bacon and cook on medium heat. Cook until crispy.

While the bacon is cooking, slice one onion and transfer to the pan with the bacon.

Cook the onions until it's caramelized. Remove bacon once crispy.

Add butter to a clean skillet on low heat. 

Add bread to the skillet and toast each side for 5 minutes.

 Remove the bread from the pan, add jelly and assemble the sandwich.
Add fresh fruit and enjoy with a cup of coffee. 
No. 4: Chloe's Guilt-Free Pesto Penne
A pasta dish full of flavor and in a pinch of time.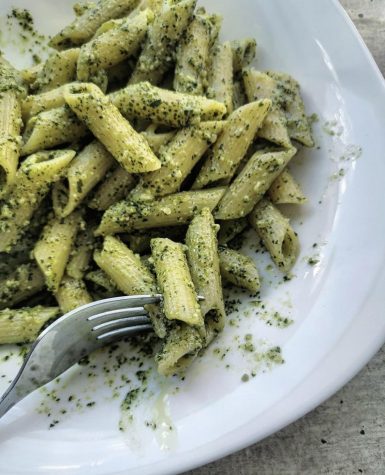 INGREDIENTS:  
1 box of penne noodles
(1) 6 oz. jar of pesto sauce 
1/2 cup heavy cream
1/2 cup grated parmesan cheese
1 tbsp garlic
1 tbsp cooking oil
1 tsp onion powder
Pinch of salt
 Pinch of pepper
STEPS TO FOLLOW:
Bring a large pot of salted water to a boil on a high flame, add noodles and stir.

Boil noodles for 10 minutes or until cooked, then drain.

In a separate pan on medium heat, add cooking oil and garlic. Add heavy cream, pesto sauce, seasoning and stir. 

Reduce heat and cook for 5 minutes. When the sauce begins to bubble, add parmesan cheese and cook until it melts.

Add noodles to the pan and stir.

Plate and enjoy.
Customize the pesto with ingredients such as mushrooms, spinach and tomatoes. Add protein of choice or keep it meat-free.
No. 5: Aziah's Grilled Chicken Tacos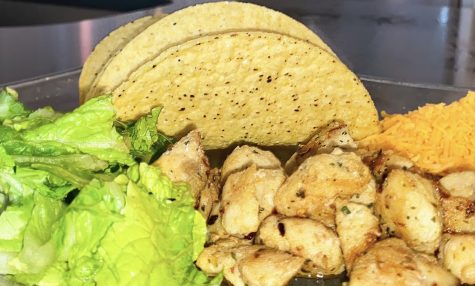 A taco recipe without the hassle.
INGREDIENTS:
 3 taco shells (hard or soft)
1 chicken breast 
2 tsp onion powder 
2 tsp garlic powder 
2 tsp Goya Adobo All-Purpose seasoning 
1 Maggi Chicken Flavor Boullion seasoning
1 tbsp sour cream 
Handful of shredded cheese
INSTRUCTIONS:
Clean chicken with water and vinegar and chop into bite-sized pieces. 

Season chicken and let it rest. 

Add cooking oil to a pan on a medium flame.

Once the oil is hot, add chicken to the pan and reduce to low heat.

Cook for approximately 10 minutes on both sides or until the chicken is thoroughly cooked. 

Wash and chop lettuce. 

Assemble with chicken, lettuce, cheese and sour cream.
No. 6: Tariq's 

Salmon cakes

Traditional salmon cakes made easy and without the difficult steps.

INGREDIENTS:

1 can salmon

1/2 green pepper

1/2 red pepper

1/2 onion

1 tbsp minced garlic

Pinch of salt

Pinch of black pepper

2 tsp onion powder

1 1/2 tsp dried basil

1 1/2 Old Bay

1 tsp dill (fresh or flakes)

2 tbsp freshly-squeezed lemon juice

1 egg

1/2 cup bread crumbs (plain or seasoned)

INSTRUCTIONS:
Mix all the ingredients in a large bowl and form the mixture into medium-sized patties.
Add cooking oil to a pan on medium heat. Once the oil is hot, add patties.
 Cook on each side for 5 minutes or until brown.
Remove the patties from the pan and drain excess oil on a plate lined with a paper towel.
Serve with condiments of choice.
No. 7: Jordan's Chewy Chocolate Brownies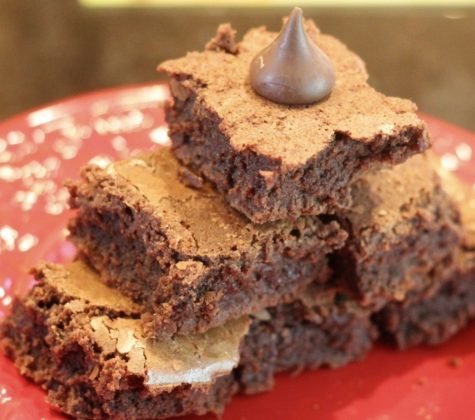 All it takes is 6 ingredients and 45 minutes to make delicious brownies for any time of the day.
INGREDIENTS:
1 package of BAKER Unsweetened Chocolate 
¾ cups butter
2 cups sugar
3 eggs
1 tsp vanilla extract
1 cup flour
Yield: 18 cupcakes
STEPS TO FOLLOW:
Preheat oven to 350 degrees.

Line a pan with foil, with the ends extending over the sides. Spray the foil with cooking spray.

Microwave the chocolate and butter for 2 minutes. Stir the microwaved ingredients until it's combined.

Add sugar and mix. 

Add eggs and vanilla extract and stir until mixed. 

Add flour and stir. 

Pour the mixture evenly onto the pan and b

ake for 35 minutes or until cooked.

Remove the pan from the oven and allow the brownies to cool for 35 minutes.

Remove the foil and cut brownies into desired shapes. 
Serve with a glass of milk or bowl of ice cream.
No. 8: Donethe's Oreo Crumb Cupcakes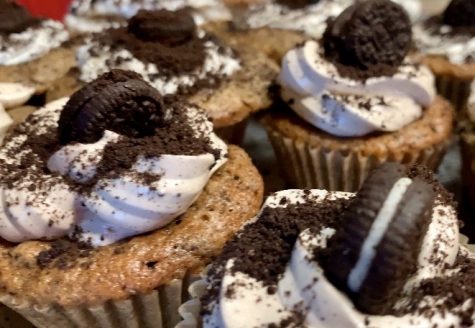 A sweet treat—guilt included.
INGREDIENTS:
2 cups granulated sugar
½ cup vegetable oil 
3 large eggs
1 tbsp vanilla extract
2 ½ cups all-purpose flour
3 tsp baking powder
1 tsp salt
1 ¼ cups milk 
3 cups of crushed mini Oreos 
1 1/2 cups unsalted butter
6 cups powdered sugar
12 crushed Oreos
2 tbsp whipped cream
25 Oreos (garnish, optional)
Yield: 35 cupcakes
INSTRUCTIONS:
Instructions for cupcakes
Preheat the oven to 350 degrees Fahrenheit.

Combine sugar, vegetable oil and vanilla extract in a large mixing bowl.

Separate the whites from the yolks.

Beat the whites until frothy and add the yolks to the mixing bowl. 

Beat on medium speed for 2 minutes or until the eggs and oil are mixed and the batter is lighter in color.

Add baking powder, salt and half of the flour to the mixture. beat at low speed.

Add half of the milk into the mixture and continue to beat on low speed until the ingredients are thoroughly combined.

Add the remaining flour and milk to the bowl. Continue to mix on low speed.

In a large bowl, crush Oreos into small pieces and add it to the mixture.

Add liners to a cupcake pan and divide the batter evenly amongst the compartments. Leave enough room for the batter to rise.

Put one mini Oreo inside each compartment. 

Bake for 20 minutes or until cooked.

Remove from the oven and cool.
Instructions for frosting:
Beat a half a cup of butter until it's lighter in color. 

Slowly add powdered sugar and mix on low speed.

Increase the speed and beat the mixture for 1 minute. Repeat until all the powdered sugar is added.

In a food processor or blender, pulse Oreos until crumbled. Add the crumbs and heavy whipping cream to the mixture. 

 Beat at high speed for 1 minute.

Frost the cooled cupcakes, sprinkle Oreo crumbs on each one and enjoy.
The Spokesman Staff contributed to this article.