Senior guard, 'heart of the team' to play last game with Lady Bears basketball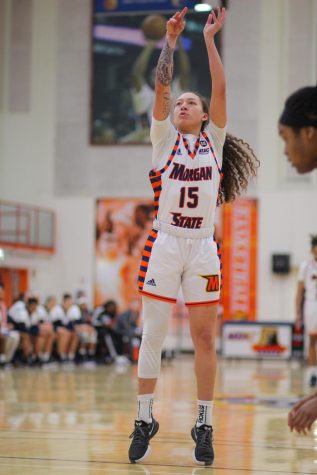 When redshirt guard Chelsea Mitchell was a student at Atholton High School, she desperately wanted to join the football team, but her mom wouldn't let her—so she joined the basketball team instead.
On Thursday, she will play her final game of the season with the Morgan State Bears against the Norfolk State Spartans. But the leading scorer's path in college basketball has been anything but linear. 
Mitchell started her collegiate basketball career with Morgan State in 2015, but in her sophomore year, she transferred to Lander University in South Carolina. 
During the Bears' 2016-17 season, the business administration major averaged 6.1 points and 4.7 rebounds and started in 28 out of the 30 games played. At Lander, she averaged 15.3 points, a team-high 8.2 rebounds and 2.1 assists and played in 33 games.   
She stayed at Lander her junior year, despite feeling out of place. However, in 2018 she returned to Morgan, but she had to sit out to fulfill the NCAA transfer requirements. 
Mitchell averages 15.2 points per game and has accumulated 425 total points this season, the highest on the team. She scored 26 points against Howard last month, leading the Bears to victory, 68-52.  
As the second youngest in a family of six, the Columbia native knows a thing or two about teamwork. She said a highlight for her was when the Bears beat the North Carolina A&T Lady Aggies, 42-38, because they played as a team.
"The energy was high, we had each other's backs and overall it was just a fun experience," she said.  
Like most collegiate athletes, Mitchell hopes to play in the professional league, but she doesn't have a particular team preference.
 "I don't have a specific team I would want to play for because I just love playing the game of basketball but as long as it's any team in a good area, I'm perfectly fine with that," she said.  
Freshman guard Ja'Niah Henson said she admires Mitchell's strong work ethic both on and off the court and called her "the heart of the team." 
Redshirt junior Dahnye Reed agreed.
"Chelsea is consistent and she contributes great energy and hustle," Reed said.  
This season, the Bears are 15-13 overall and if the team wins Thursday's game, it will mark head coach Edward Davis' 400th career win. He credits some of the team's success to Mitchell and said she brings the players closer together.   
"Chelsea is an explosive energy player and she's determined to not be outworked by anyone," he said. "Off the court, her demeanor has brought everyone closer together." 
Mitchell said her proudest moment was when she graduated in December and was accepted into graduate school at Morgan. 
"I plan to finish grad school and play professionally."
The Lady Bears will play Norfolk State on Thursday, March 5 in the Hill Field House at 5:30 p.m.