Student rideshare service faces high demand, searches for more drivers
On Monday, Jan. 20, two undergraduate students brought a ride-share service to campus and, within its first week of business, provided over 10 rides and secured over 500 Instagram followers.
After an overall successful week, according to the drivers, Bear Cab owners  Kayla Terry and Morgan Tunstall believe the business is off to a good start, but have some future adjustments in mind.
With a high demand for late night rides—ranging from 12a.m. – 2a.m.—they have begun encouraging students to book their rides ahead of time to ensure they will be able to get picked up. 
A quick text showing your Bear Card and a request for pickup and drop off got over a dozen students to their destinations this week, but according to Tunstall, their biggest challenge has been having a low number of drivers.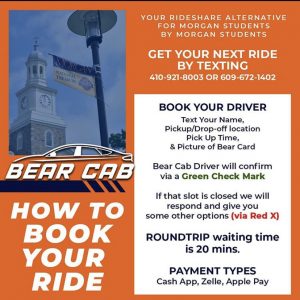 The drivers were caught off guard by the surge in demand, leaving them unable to provide everyone who requested a ride with a driver. As time progresses and they see what everyday business is like, they will hire drivers accordingly. 
"Cons would be really just not having enough drivers and then people trying to get a ride when we're already on a ride," she said. 
Despite the shortage of drivers, Tunstall and Terry have made efforts throughout the week to ensure every rider was satisfied with the service provided. Riders were given treats and incentives to encourage students to use Bear Cab again. 
"We had candy bags the first day [and] everybody really responded to that well," said Terry, who had given the same passenger three rides since the official opening of Bear Cab.
Students who have already supported the business have begun to leave positive reviews that are now posted in the highlight section of the Bear Cab Instagram page. 
The ride share service also provides discounts, including $5 rides for students going to an interview or a $15 roundtrip to Towson's Walmart, which according to the drivers, has been the most requested set destination amongst riders. 
As Valentine's Day approaches they plan on having a Valentine's Day special. 
Still, students like sophomore economics major Cheyenne Fenton, who has had a few negative experiences with ride-share services in Baltimore is still on the fence about giving the ride share service a try. 
"I just don't want to be in a situation where I need a ride last minute and can't rely on them, but at least I'll know they won't be a creep coming to get me at 3 a.m.," she said.