Morgan Board of Regents member, Rep. Elijah Cummings dies at 68
David Wilson was the chancellor of the University of Wisconsin when he met Rep. Elijah E. Cummings (D-7) in November of 2009. 
Wilson had been approached by a Board of Regents member to participate in a conversation about possibly becoming the next president of Morgan State University. 
"I can recall that conversation as if it were only yesterday," Wilson said. 
He walked into the library and took the elevator to the fourth floor where he met the board in the conference room. A ping-pong like game of question and answer ensued, but there was one question that caught Wilson by surprise and would remain in his memory to this day. 
"Congressman Cummings asked me a question and said 'Why do you want this job,' and it was the kind of question that later I would come to understand was just so inimitable."
Wilson's answer to that question not only secured his position as the 100th president of Morgan State, but it sparked a close friendship between the two that would span over a decade. 
At approximately 2:30 a.m. on Thursday, Oct. 17, Cummings died at Gilchrist Hospice Care, a Johns Hopkins affiliate, due to long-standing health challenges, according to a press release. He was 68-years-old. 
Cummings represented Maryland's 7th Congressional District in the U.S. House of Representatives, was the chair of the House Committee on Oversight and Reform and was also a senior member of the House Committee on Transportation and Infrastructure. 
Known as one of the three most significant politicians in the history of Maryland, Cummings was a strong proponent of health care reform and Former President Obama's Affordable Health Care Act. 
Cummings was known most recently for his contentious relationship with President Donald Trump who, in July, called the Maryland democrat's district a "disgusting, rat and rodent-infested mess" on Twitter. 
Although Cummings is a Howard University graduate, he devoted the majority of his life to serving the Morgan community. He was on Morgan's Board of Regents for 19 years and most recently acted as the university's 2019 commencement speaker.
In his commencement address, he spoke about growing up in a small rented row house on the South side of Baltimore, near Fort McHenry, and navigating the nuances of an elementary school in special education classes. He encouraged the students to persevere, even when the odds are stacked against them.  
As a former resident of a sharecropping plantation system in North Carolina, Wilson instantly gravitated towards Cummings, whose parents were sharecroppers as well. 
"[Cummings] was guided by his moral compass and his desire always, to make things better than he found them to be," Wilson said. "He was never intimidated by power, and he himself never became intoxicated by power and influence."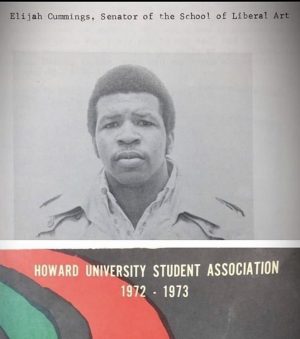 Cummings was always an advocate for change in the black community. He served as the President of the Student Government Association at Howard and acquired a law degree from the University of Maryland School of Law. 
In the 1970's he met Edward Smith, a retired lawyer and Morgan alum who would later become his business partner. 
Smith said that Cummings approached him at a Monumental City Bar Association meeting, looking to open a law firm. The two met at Baltimore's Memorial Stadium on 33rd St. and drafted the plans for what became the largest black law firm in the state of Maryland. 
"I gave him top billing, of course, because of the type of personality he had," Smith said with a laugh. 
The two grew closer over the years, occasionally Smith, Cummings and other lawyers from the firm would meet up at Druid Hill Lake with their families and do laps around the lake. 
"It built a sense of family in the law firm," he said. 
Smith described Cummings as incredibly sincere. 
"People would come to him because of his sincerity," he said. "It was a trait that was well worth having." 
It was also a trait that Wilson admired, along with Cummings' passionate leadership. It was something that the congressman not only employed in his own career, but encouraged the students he worked with, to embody as well.  
Niraje Medley-Bacon, a former Morgan student regent who majored in political science, completed an internship at Cummings' Washington, D.C. office in the summer of 2018. 
"It was very clear that he had a goal in mind, not just for people in Baltimore but also people in the state of Maryland and people across the nation in general," she said. 
Medley-Bacon said that Cummings was a strong proponent of equity and equal opportunity and appreciated that he prioritized hiring Morgan alum.
"His death is a huge loss for our Nation, for the State of Maryland, for the City of Baltimore and for our beloved Morgan State University," Wilson said.