Inside Morgan State's Homecoming lineup—luck or strategy?
Morgan State's Campus Activities Board
Senior biology major Spencer Kelson has never purchased a homecoming concert ticket, but he's attended every one since his freshman year. When he was a sophomore, he recalled standing outside of the Student Center, by the garage, when a black Mercedes pulled up to the curb, seemingly out of nowhere. He was in disbelief when the windows rolled down and Baltimore rapper YBS Skola's driver appeared, asking him for directions.
"He rolls down the window and he's like 'Do you know how to get to the Fieldhouse?'" Kelson said. 
He saw an opportunity to attend one of the biggest concerts of the year and he didn't think twice. Kelson offered them directions in exchange for a ride and entry to the concert.  
"I'm in the car with Skola in this big black Mercedes and I'm trying to keep my composure," he said. "I walk in with them and I pass [Cardi B] on the way." 
For the past four years, artists have accomplished major success in their careers, following their Morgan Homecoming concert performances. 
In 2015, award-winning artists Fabolous and Rick Ross headlined the annual concert after Houston rapper Travis Scott dropped from the lineup, according to a Student Government Association press release. One year later, he released the triple-platinum hit "Goosebumps," with Pulitzer Prize Winner Kendrick Lamar.
Since his 2016 recording-breaking single, Scott released "ASTROWORLD," a Grammy Award-Nominated Album and performed a sold-out show at Madison Square Garden in August of 2018.
One year later, Lil Uzi, A Boogie wit da Hoodie and Shy Glizzy produced a sold-out event, Morgan's first since Jay-Z's homecoming performance in 1997.
"That was probably the best concert we've had," Kelson said. "The energy was insane." 
This year, DaBaby, Stunna 4 Vegas, Calboy and Jacquees will perform. It's the first time in Morgan Homecoming history that the university has booked four headlining artists as opposed to three, according to Kishore Comrie, president of the Campus Activities Board.
CAB is a student-run organization in charge of the homecoming concert and other campus events. Recently, it announced Xanman, an emerging rap artist from Prince George's County, as a last-minute surprise performer.   
Intrigued by the popularity of Morgan, Xanman describes his homecoming debut as his biggest performance of the year. 
"I feel like my fans are my family, I have a personal connection with them," Xanman said. "I mess with everybody that mess with me." 
CAB begins planning for the anticipated event over the summer. For several years, students requested Jaquees, but CAB wasn't able to secure him as a performer until this year. 
"We got lucky enough to where it happened so we're trying out something new," Comrie said. "We are just trying to set the tone for people coming after us."
Comrie's top priority was to obtain one of today's most popular artists. 
"We pick our artists before any other school," he said. "The first person we locked in was DaBaby." 
DaBaby won Best New Artist at the BET Hip Hop Awards Saturday. His latest album, "KIRK," dedicated to his father who died the same day his previous album "Baby on Baby" went No. 1 on Apple Music, recently charted the Billboard Hot 100 list. The 20 songs surpassed his career total, tying him with Grammy Nominated Artist Post Malone.
Big shout out to @dababydababy for taking home the Best New Artist Award tonight at #HipHopAwards. Be sure to watch it all on https://t.co/van1kxoasP Powered by @boostmobile pic.twitter.com/ixWUfSVtTg

— BET (@BET) October 9, 2019

As part of XXL Magazine's 2019 Freshman Class, he has spent months in the spotlight and many fear his popularity may negatively affect the concert turnout. 
"I feel like it could go both ways, it could be a lot of traffic but then there's that little chance that people may not be interested because DaBaby is very saturated at this point," said Diamond Durant, Morgan State alum and Roc Nation freelancer.
While Durant admits that CAB possesses insight into who the next big upcoming artist is, she also believes that luck plays a role.
"I think CAB is really good at picking those artists that we know and love and will get a crowd hype but won't cost that much money at the time," Durant said. "Morgan is really good at grabbing those artists that are next up."
SGA President Keyon Grayson said his close friendship with Comrie allowed them to bounce ideas off of each other about potential 2019 headliners, but ultimately the final decision was Comries'. 
"We talked a lot about it over the summer," Grayson said. "Sometimes I would go to his meetings. Sometimes he would come to mine."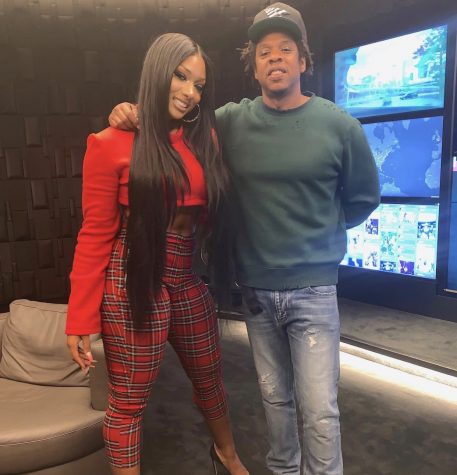 Grayson said that the budgets for CAB, SGA and Mister and Miss Morgan all come from the same pool of money, even though CAB is technically its own entity.
Comrie and Natasha Lewis-Williams, the coordinator of the Office of Student Life and Development, declined to comment on exactly how much CAB receives annually. The publicly-funded organization uses the same funds to book artists for homecoming and "I Love Morgan Week." 
In conjunction with their annual budget, the organization garners support from companies like Downtown Locker Room and Baltimore Radio Station 92Q. 
Megan Thee Stallion performed at "I love Morgan Week" last spring, but she wasn't the headlining artist. Several months later, she graced the cover of XXL Magazine's 2019 Freshman Class, signed a management deal with Roc Nation and won Best Mixtape at the BET Hip Hop Awards Saturday.
According to Comrie, there's no hidden algorithm that predicts the next big, up and coming artist. CAB uses social media to gauge the artists they think Morgan students would like to see. They use Twitter polls and suggestions to generate a list of performers and reach out to them. 
This year, one of those performers is Xanman. 
Grayson believes that the diverse population of Morgan students who experience the concert go back home and spread the word to their friends and family. 
Grayson added that as the Morgan student population grows, the effect of Morgan's Homecoming Concert experience spreads.
"People go home and they take that music that they heard at the concert…and then it just blows up from there," he said
Xanman expressed his appreciation for a chance to take the HBCU stage.   
"Morgan is a very popular college, it's a very popular HBCU," Xanman said. "I feel like it's a big opportunity for me [and] may be my biggest show of the year."