Students, faculty begin new school year with Prayer Walk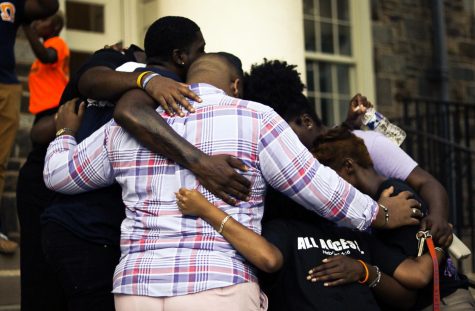 As the sun was setting Sunday, the eve of the first day of a new school year, students and faculty gathered in the academic quad to sing, raise their hands and bow their heads for Morgan's third annual Prayer Walk, held in partnership between the Office of Student Life and Development and other student organizations.
Morgan State senior Stephen Thompson Jr., a computer science major, led the prayer walk and said he was encouraged by the size of the gathered crowd.
"I feel like our turnout was amazing," Thompson said. "It seemed kind of strange to have so many people staring at us while we said prayers, but I'm just glad they showed up to listen to the message and help us pray to keep Morganites safe, while also praying for the city of Baltimore as a whole."
The event was not limited to students and faculty of a particular faith. Non-religious students and observers were also in attendance.
Sophomore computer science major Sakinah Cottman, said the event provided a chance to show the administration that students care about the university.
Cottman added that with the recent death of business major, Manuel Luis, student-centered events like prayer walks should continue for years to come.
"We're praying for our colleagues, opportunities, and the overall future of Morgan State," Cottman said.