Morgan State University unites during spring unity walk
Many students and student-leaders walk through campus and gather to worship together.
The second annual Unity Prayer Walk was held on Sunday evening as the community of Morgan State University gathered to devote their time to peaceful prayer and worship.
After it began in the fall of 2018, the tradition continued this semester by
Carpenters's House Baltimore youth leader Stephen-Michael Thompson Jr., a junior computer science major.
"I've seen changes on many levels in terms of student leadership. We have a lot of leaders talking about God," said Thompson.
A number of organizations participated and showed their support Sunday including over 30 major organizations who walked in unity from the student center to the quad, gathering at the steps of Holmes Hall.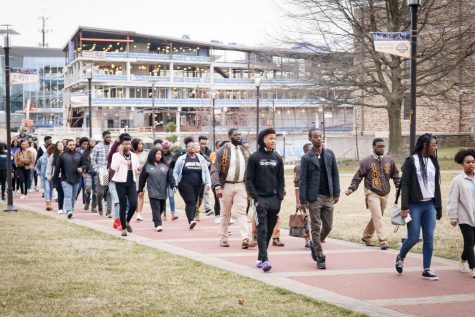 Members of the Alpha chapter of Alpha Nu Omega Fraternity and Sorority Inc. began with praise and worship. Singing songs like Our God is an awesome God and How Great Is Our God, inviting the crowd to sing along to get things going.
A number of students took the lead to pray on a variety to topics that seem to affect the community such as academics, mental health, graduation, sexual assault and their purpose.
"I understand the power of prayer [and] people may not be as religious as me, but it's just something peaceful about prayer," said Thompson.
Other campus leaders were in attendance such as Bria Hill; the SGA vice president, Miss and Mister Morgan State University and more.
Thompson told the MSU Spokesman "will become a Morgan tradition for years to come."
"Often times, someone here at Morgan will start something, graduate and then it's lost," said SGA President Kenold Pierre. "[But] the thing that's important is for the next person or next generation to pick it up. So this is now an annual Morgan tradition each semester," said SGA President Kenold Pierre.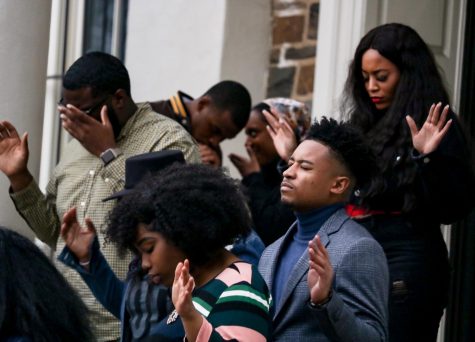 Breanne Martin, senior psychology major and member of Alpha Nu Omega Sorority Inc., shared how she enjoys the time spent praying with others.
"We as a campus always feel like a family, but to come together in prayer is completely different," Martin said.
"I'm glad that we're able to have that opportunity, I feel lifted just because things go on during the semester so it's good to have a time where we can all come together," she added.