Women's History Month Convocation celebrates Dr. Terborg-Penn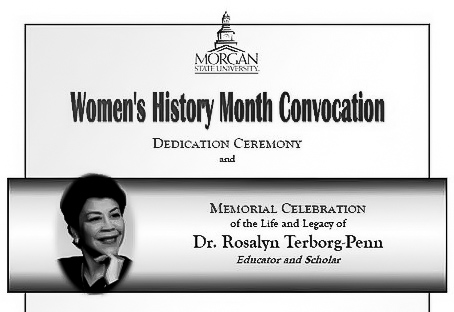 Dr. Rosalyn Terborg-Penn, who died on Dec. 25, 2018, was an activist, educator, and advocate for the empowerment of black women. Morgan State University dedicated this year's Women's History Month Convocation, Thursday, Mar. 14, to her legacy.
She was also a mother, not only to her daughter, Jeanna Penn but to her students as well. According to Penn, her mother, who was 77, died of natural causes related to type 1 diabetes.
"Her health was a full-time job for her, she was a type 1 diabetic," said Penn.
Regardless of any health-related ailment, however, Terborg-Penn always remained active in the community. As a member of Alpha Kappa Alpha Sorority Inc., "she was a charter member of her chapter in Colombia, Maryland."
The Women's History Month Convocation served as the Penn family's memorial service which was originally scheduled for Saturday, Jan. 19, 2019 in the Calvin and Tina Tyler Ballroom but was rescheduled due to inclement weather.
"Morgan was definitely a major part of her life, it was a home to her and became a home to me…I feel very honored that they recognized her," said Penn.
Terborg-Penn was a history professor at Morgan for 37 years, 1969-2006, and left a lasting impression on her students. Dr. Edwin T. Johnson, Assistant University Archivist at Morgan, was a student of hers from his freshman year of college to his postgraduate education. He is considered family to Penn who referred to him as "a surrogate brother."     
"I am also a 1992 graduate of Morgan, Department of Speech Communication. I actually had Dr. Penn as an undergraduate professor and then again in graduate school when I was working on my second masters. And she was actually my dissertation committee chair when I did my Ph.D. here and I was one of her last Doctoral students after she retired," said Johnson.
Johnson smiled as he remembered stories of being in her classroom. He recalled an instance where she made a student get up in the middle of class when she noticed her roommate was not in attendance and return to the residence hall to bring her roommate to class.
"She walked from Holmes Hall to Argon [now known as Thurgood Marshall], got the young lady and brought her," he said. "She gave us this long speech on how we were blessed and had to be accountable for one another and we couldn't take this opportunity for granted because we were all on academic scholarships…she was just constantly instilling in us our responsibility as people of color who had the opportunity to earn college degrees."
Terborg-Penn received initial backlash from her peers when she decided to study the history of black women in the 1960s, said Dr. Ida E. Jones, Morgan Archivist who is the honorary speaker for Thursday's Convocation.
"Dr. Penn was the foremost scholar on African American history," said Jones. "The black power movement is coming of age [in the '60s] and there is a muted voice for women. They are allowed to be intellectual furniture where they are visibly there, but they're not allowed to be audibly there."
According to Jones, Terborg-Penn was encouraged by fellow black female historians—like Bernice Johnson Reagon, Elizabeth Clark Lewis, and Evelyn Brooks Higginbotham—to continue her research.
"She comes with a collective of cohorts who are going to excavate this, and they are led by Lorraine Williams of Howard University who is the first woman to be vice president of academic affairs of any HBCU and so she's there administratively telling them 'do whatever, pursue' because that needs to be discussed academically," said Jones.
Pursue she did, after she received a master's in history from George Washington University and a Ph.D. in history from Howard in 1977, Terborg-Penn lead protests, co-founded the Association of Black Women Historians (ABWH) and was a founding executive committee member of the Association for the Study of the Worldwide African Diaspora (ASWAD).
"She was courted to go to other places. She was courted by Harvard," said Jones. "She chose to stay here…choosing to stay at a black school handicaps you in some regards because her having chosen to stay at a black school, chosen to do black women's history, put her in a certain space."
Black women in general not only have to face racial discrimination, but also gender discrimination. Terborg-Penn's work was underappreciated by even some of her black peers until much later in her life, said Jones.
"She had a number of speaking engagements that we had planned for this Spring going into the Fall…it's just so interesting to me that now they're looking back and seeing the significance of this research," said Johnson.
He hopes that more people will encourage the contribution of black female scholars, particularly millennials.
"It's going to be incumbent among Morgan as well as other black scholars to acknowledge her and put her key, at the forefront," said Jones. "As an HBCU alum myself, that's where she always will be and that's where I seek to put her."