Charlamagne Tha God addresses mental healthcare at Morgan State University
Radio personality and cohost of The Breakfast Club, Charlamagne Tha God, leaves many with his latest book and strongly encourages them to go to therapy.
After the release of his latest book, Shook One: Anxiety Playing Tricks on Me, radio personality and cohost of The Breakfast Club, Lenard McKelvey, well-known as Charlamagne Tha God, visited Morgan State University for an intimate mental healthcare conversation Friday evening in the University Student Center Theatre.
McKelvey's book discusses his fear of failure and how the stresses of anxiety causes many to deteriorate from success. But, after he gave every individual present a copy of the book, he hoped they left with the understanding that "getting help is your right."
"This book came from a real place. It came from me actually being on vacation and having this moment of just like peace," said McKelvey.
"My wife was like 'yo you need to go to therapy, figure it out' and that's what I started doing. So, when I was in therapy I was unpacking all this stuff and I was just was keeping notes of it. Keeping it in my journal and so it turned into a lot of these pages that are in this book."
After he agreed to serve as the keynote speaker for A Better Day Starts Today (BTST), a licensed mental health agency which provides care and organized assistance to individuals ranging from youth to adults, his visit to Morgan came to fruition.
BTST Cares is the nonprofit organization and the Baltimore branch from BTST Services, a mental health clinic located in the Charles North area, is designed to assist clients and impact communities outside of the traditional mental health services.
BTST CEO, Christopher Simon, and executive director Jada McCray, moderated led the discussion amongst McKelvey, State Attorney Marilyn Mosby, drummers A1 Chops who were featured on the Ellen show, art activist Aaron Maybin, poet Kondwani Fidel and more.
Fidel, a Baltimore native and poet, expressed how he uses his craft to spread awareness surrounding mental health.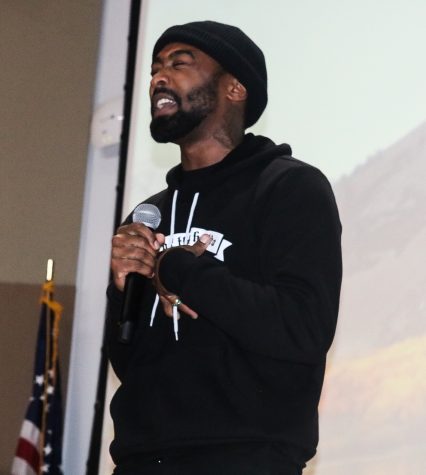 "I feel like storytelling is just one way to help deal with the trauma that we deal with while being black in America. This is just my way that I help so I just want to share that with people and try to get people excited about telling their own stories," said Fidel.
"I just want people to get on that journey of trying to find different ways to heal that mental trauma," he added.
McCray shifted the conversation to the power of the tongue and being vocal.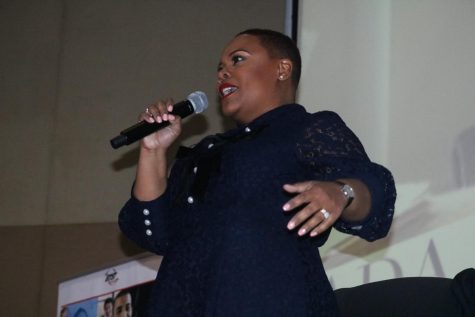 "All people need to see is one. One person who's willing to step out here and say this is what I'm going through, this is what I'm dealing with and you being on a national platform it encourages other people who work in the heart of Baltimore City," said McCray.
Mayor Catherine Pugh, presented Simon with an award for the work the organization does in the Baltimore community, and she sent her regards for not being able to attend the event.
Due to the lack of resources, McKelvey explained that the larger issue of pain in the black community and how that trauma has been passed down from generation to generation encapsulated the room.
"[Black people] We've been taught that pain is a part of the process, like pain is a part of our plan. We think about everything our ancestors went through and we just think that pain is a part of life –– but it's not," said McKelvey.
"Sometimes when you transcend your circumstances and you're on the outside looking in you realize that a lot of things we normalize are not normal at all," he added.
Dr. Jude Boyer'Patrick, medical director at BTST, explained to the audience briefly the range of mental health issues and its impact.
 "All of us are on a scale of 1-10, all of us have mental health issues of some kind. If you're on that 1-5 and you can function. But, when you hit 6, 7, 8, 9, and it begins to impact your social life, home life, school life, work life that's when you better get some help," according to Boyer'Patrick.
Tamiah Griffin, senior business administration major, discussed how her perception has changed after the conversation.
"It's [professional help] looked upon negatively and I think that with everyone shedding a light on mental health and how important it is to take care of your mental health my perception has changed," said Griffin. "I'm fully understanding now that anyone and everyone can go get help and it's nothing wrong with that."
McKelvey was also presented with an award by BTST services, for being a key player in the education promotion in awareness about mental health.