MSUnified shows what Morgan unity looks like
Morgan State University held its 3rd MSUnified Friday afternoon to support the uniqueness of the student body.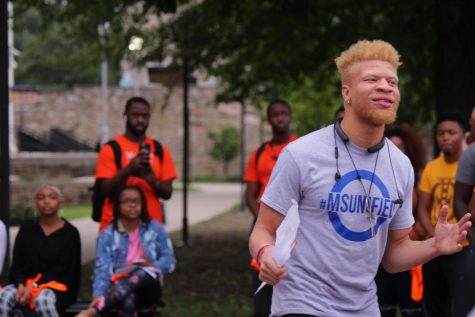 Photographer Credit: Will Robinson
The creator, Chinedu Nwokeafor, a graduate student and business diversity assistant, collaborated the event with the Student Government Association, Campus Activities Board, National Pan-Hellenic Council, National Council of Negro Women, and the Division of International Affairs.
SGA vice president, Bria Hill, began with a moment of silence for the Morganites who have lost their lives.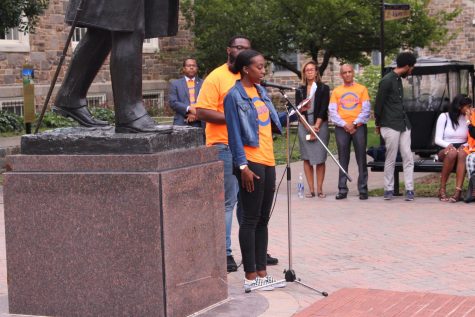 "HBCUs stand important now more than ever as we face the societal climate which aims to convince us that we're not good enough, smart enough competitive enough, or even equipped enough. But I am here and so are you at one of the greatest and most profound and historically significant HBCUs in the country, Morgan State University," said Hill.
In her own words, she defined what the event meant for the Morgan community.
"MSUnified is about fighting for what we deserve together, succeeding together, praying together, helping together, and impacting our world together."
In addition to student organizations, some of Morgan's administrative staff attended in support.
"Three years ago, this city was ravished by rioting, violence, and it was the students at Morgan State and other universities, but Morgan State students came together, and we have a history of doing this now. We have a history of being civically engaged," said Kevin Banks, Vice President of Student Affairs.
Banks not only reminded the students of their history but also emphasized the importance of voting.
"Make sure you're registered to vote. We got Black Girls Vote on this campus, we have a bunch of organizations, the NAACP looking to make sure students get involved and get engaged so they can vote. We look to you all to be the next generation of leaders, so you've got to be engaged," said Banks.
President Wilson could not be at the event, but he showed his support by supplying the shirts for students.
MSUnified is a day where the student body comes together in support of "a diverse campus filled with Bears from many different walks of life, sexual preferences & beliefs." Creator, Nwokeafor, discussed how the event came to be.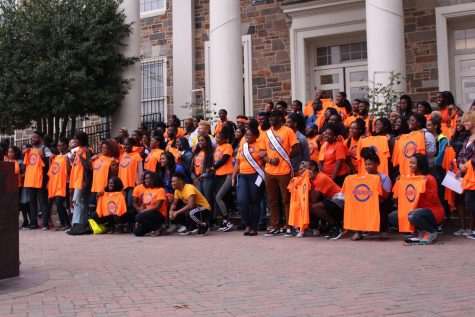 "It was all a dream when myself and a couple of other brothers came up with MSUnified. We sat down in the office with President Wilson and Dr. Banks, and a couple of other administration. Saying what can we do in America that we're about to face. So, we said let's have an event that represents all of Morgan, all people," said Nwokeafor.
He added that this is the 3rd MSUnified event, but there will be a series of more events throughout the year.
"You all are standing on the shoulders of greatness. MSUnified we are here filled with pride cause at Morgan State we grow the future and lead the world."