The MSU choir sang alongside Aretha Franklin
Morgan's choir will pay tribute to the Queen of Soul during the Matriculation Convocation.
The Morgan State University Choir plans to honor Aretha Franklin's legacy during the Matriculation Convocation ceremony by singing "Precious Memories," a song they sang together during the Gospel: In Performance at the White House back in 2015.
The Morgan State University Choir sang alongside Franklin, the Queen of Soul, at the suggestion of former First Lady Obama for the gospel gathering.
The choir also sang behind artists Pastor Shirley Caesar, Lyle Lovett and Tamela Mann in a room of about 200 people that were foot-stomping, hand-clapping and celebrating the gospel.
With only a two-week notice, Eric Conway, the chairperson of Fine and Performing Arts and the director Choral Activities was tasked with selecting "a small choir of 12-16 singers" out of 120 students.
According to Conway, "the concert was held in the East Room, which is a very large room by most standards. However, after placing a stage with steps, lights, audio equipment and six separate cameras to record the event, the room became very small."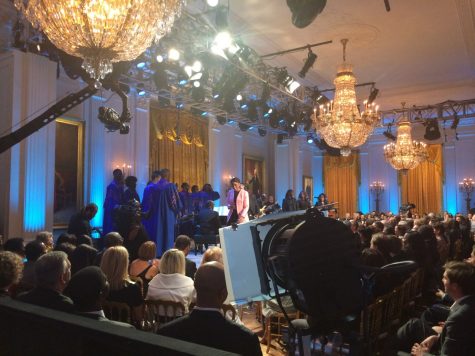 "I could only take 15 or 16, but I needed to make this work. I needed the best voices at the time to make it work and picked who I knew could deliver," said Conway.
Although the production was edited down to a 55-minute special on PBS, Conway and members of the MSU choir spent an entire day at the White House after arriving at the Southeast gate early that morning.
After a morning of rehearsing and running the show, "it truly felt like a dream come true," said Kiya Wright, a recent graduate of Morgan that sang alongside Franklin and others.
"She was a diva. She walked in with this huge fur coat on, her entourage followed her around and she just demonstrated star qualities. But, she was also quiet and humorous at the same time –very dynamic," said Wright.
About a year later, Franklin personally contacted Conway and asked if the MSU choir to back her as she performed at the Music Center at Strathmore located in Bethesda, Maryland.
According to Conway, "this request was made after working with [Franklin] at the White House."
After working with Franklin on different occasions, Conway described her voice as "perfect for the timing of people to receive her musical message" and "one for humanity."
"Your spirit has to be right when your singing for people to connect with you," he added.
The Matriculation Convocation is being held at 11 a.m. in the Murphy Fine Arts Center's Gilliam Concert Hall on Sept. 6 on the campus of MSU.