Hamidah Famuditimi Reflects About Her Time as Student Regent
Four years ago, she was unsure about life and education, but with a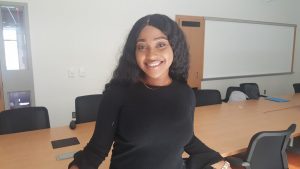 great support system from Morgan State University, Hamidah Famuditimi, decided to give back by pursuing the role of student regent.
"The reason why I pursued this role is because I am passionate about Morgan State University. It literally saved my life. I don't where I would be if it wasn't for Morgan," said Famuditimi.
She has been the student regent for Morgan since July 2017.
Her role is to be a liaison between the Board of Regents and the student body. She is the only student on the board and the voice of the students.
"Without me it is hard to have the students' perspectives," she said.
Students trust her by sharing their issues, and she advocates for them looking for solutions and results.
"I wasn't the best student when I came to Morgan, but when I came, I had such a great support system. I appreciated the fact that someone saw a potential in me and encouraged me to persevere and keep going," said Famuditimi.
Famuditmi explained that part of her role is also to participate in policy making.
"The board passed couple of policies. The recent one was the Appointment Promotion and Tenure policy for faculty and staff member…if they want to get promoted," said Famuditimi. "[And] another one we are looking for it to be approved is the revision of the code of student conduct. We are also looking to bring few new academic programs and partnerships," she added.
The student regent being the highest student leadership position, Famuditimi thought it "would be the best platform to encourage other students to pursue the same route [she] went through."
She believes the school has many successful students, and so, it would be a shame not to take full advantages of all the opportunities Morgan has to offer.
Her decision to take the position was also "to set an example for the students that if they want to see changes at their university, this is also the way to go about it, because there is someone looking out for you and advocate on your behalf."
Famuditimi also created a book scholarship and awarded three $200 scholarships to students who have exhibited academic excellence and financial needs.
"Since I recognize that paying for school is one of Morgan's deficiencies, I again, wanted to give back."
The role of the student regent, she said, "is what you want to make it."
For her one-year term, she focused a lot on community services and her scholarship.
For instance, every December, she volunteers with the University of Baltimore's Cure Scholars Mentorship Program introducing middle and high school students about why science, technology, engineering and mathematics (STEM) is important by completing related activities
Famuditimi also travels to Nigeria once a year for a humanitarian trip and works with the Office of Community Service and Academic Enrichment at Morgan, where she planned events for academic programs.
Although her term is soon to be over, the young student regent has some exciting things on her plate career wise.
This summer she will be joining the Biotechnology Innovation Organization's environmental and industrial policy team, one the world largest trading organizations in Washington, DC.
In addition, she will begin law school at the University of Baltimore in the fall of 2019.
Although it saddens her to leave Morgan, she is hopeful for the future.
Famuditimi would like to encourage the next student regent to "enjoy the process, never lose the passion and always remember why you went out for student regent because the work can be a bit much."