Morgan State University will be hosting a screening the documentary MAJOR!, which focuses on a pioneering elder black transgender activist, Miss Major Griffin-Gracy on Apr. 4.
"We are so proud to host the screening of MAJOR! at Morgan State University with the Women's and Gender Studies Program," said Rev. Cedric A. Harmon, the Executive Director of Many Voices: A Black Church Movement for Gay and Transgender.
Several reasons went into the decision to have the screening of MAJOR! At Morgan. One of which was allowing the opportunity for a safe space for conversation about transgender relations in the city of Baltimore.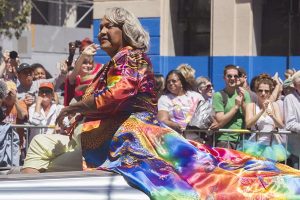 "The gathering will be more than a film screening," Harmon said. "It will also be a chance for the Baltimore community to reflect on justice for some of the most marginalized people in our nation: low-to-no income black transgender and gender-variant folk. The film also argues that trans justice must go hand-in-hand with criminal justice reform."
Rev. Harmon believes this is a chance for a bigger movement to take place in regards of the liberation of transgender folk in the city of Baltimore. This film and her work, he thinks, can spark a conversation.
"Miss Major's life and work are a testament to the urgency of justice for trans folk like Alphonza Watson, who was murdered in Baltimore on March 23," said Harmon. "At 76-years-old she is still helping communities across the country realize a world where hate crimes towards folks like Alphonza do not happen and where systemic conditions of poverty and discrimination are combated head-on. It is within these conditions that violence so often festers."
Anika Simpson, coordinator of the Women and Gender Studies Program at Morgan State University also believes Morgan is a great place to screen the film.
Simpson said, "We have enjoyed a fruitful partnership with Many Voices, they were granted permission to screen the film, they thought it would be appropriate to show in the city Baltimore. We are in the center of transgender activism due to the unfortunate murders of transgender women in the area and we are committed to uplifting all of the voices in our community."
After the screening, Simpson would like people to walk away with something they can use in their everyday lives regarding the transgender community.
"People can walk away with a sense of empathy with our transgender brothers and sisters said Simpson. "It's an opportunity to gain understanding of the plight faced transgender women population that is often ignored."
The screening of MAJOR will take place in the University Student Center in room 210 A.