Solange Knowles announced on her 30th birthday in an Instagram post that she officially completed her 4th album A Seat At The Table. She began writing the album three years ago and calls it her "most proud body of work." In addition, Knowles wrote, composed and co-produced all 21 songs on the album. As a result, she took her time and she did it right.
The singer-songwriter hopped back on the music scene in her infamous fashion spreading love, good vibes and black girl magic. A Seat At The Table is an effortlessly smooth collection of songs that celebrate culture and promote inclusivity of the black community. Songs like "Don't Touch My Hair," "F.U.B.U." and "Borderline (An Ode To Self-Care)," praises the fabulousness of black culture while encouraging people of color to embrace their God given features and talents.
On the contrary, songs like "Rise," "Weary," "Mad" and "Where Do We Go?" discuss the injustice people of color face in today's society. Also, that their emotions and reactions to the criminality inflicted upon African-Americans are justified.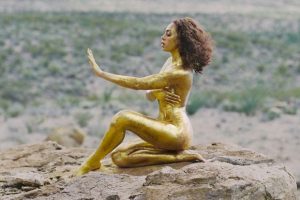 Hearing Knowles sing "Fall in your ways, so you can sleep at night. Fall in your ways, so you can wake up and rise" and "I got a lot to be mad about (be mad, be mad, be mad)," you can simultaneously hear the soul and pain in her voice. Every emotion she feels about racial injustice she puts in this project.
One of the most significant parts of this album is the interludes. The interludes chronologically set up the storyline of the track list. Likewise, you hear commentary from her parents and vocals from Kelly Rowland, Tweet, Nia Andrews and more. Each interlude briefly included views from said person on pride in culture, or their reactions to societal racism.
In "Tina Taught Me" Tina Lawson aka 'Mama Knowles' professed her love for being a black woman and her frustration with non-people of color labeling black pride as reverse racism. "I've always been proud to be black. Never wanted to be nothing else…it really saddens me when we're not allowed to express that pride in being black; and if you do then it's considered anti-white."
Similarly, when Knowles, Rowland and Andrews sing "Don't let anybody steal your magic, but I got so much y'all, you can have it" they profess that although our people are suffering in justice each person of color possesses a magic that no other culture contains.
All in all, A Seat At the Table is an invitation for black people to commune together; to take a seat with our brothers and sisters and feast inclusively and celebrate each other. Celebrating culture. Celebrating pride. The table is a secluded area where blacks are safe from injustice and treated as people instead of targets. A Seat At The Table is a safe place that encourages, protects, and respects black people.