There was a wide split in sentiment towards presidential candidate Donald Trump's visit to the 2016 National Guard Association of the United States' 138th General Conference & Exhibition at the Baltimore Convention Center on Sept. 12.
Word of Trump ending closing out the three-day event drew a large crowd of supporters who despite, not having credentials to enter the event, gathered outside awaiting his motorcade. On the other hand, there were plenty opposing forces willing to let their opinions be known.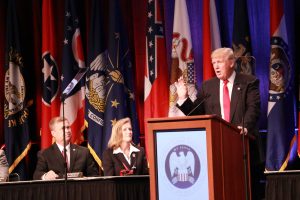 The conference brings together veterans and representatives of the National Guard to participate in voting on initiatives, award ceremonies, elections and exhibitions.
Scheduled to give a speech for the conference's finale, Trump came out to a tremendously warm welcome of claps and applauses, including a standing ovation.
Trump wasted no time commending the National Guard by playing on their contributions during the tragedy of Sept. 11, which occurred 15 years ago Sunday.
"Yesterday was the 15th anniversary of the 9/11 attacks, the National Guard was sent to assist in the aid and recovery efforts at Ground Zero in New York City," said Trump "Since 9/11, there have been 780,000 members of the National Guard deployed overseas – including those with multiple deployments."
In between praises, Trump made several promises, the first being to help the National Guard succeed by all means.
"If I am given the honor to serve as your President, I will pledge to give you the resources, the equipment, and the support you need and deserve, you will have a true and loyal friend in the White House."
For the rest of the speech, Trump partook in his usual slander of presidential candidate Hillary Clinton, attacking her vehemently.
"Hillary Clinton is an insider, supported by powerful insiders, attacking Americans who have no political power," he said.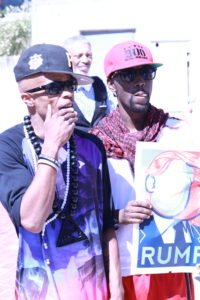 Trump also took time to hone in on the issue of police brutality, a hot topic across the nation.
"People who support the police, and who want crime reduced, are not prejudiced," Trump said. "They are concerned and loving citizens whose hearts break every time an innocent child is lost to preventable violence."
After vowing to "rebuild our military and country", Trump exited the stage to copious applause, receiving a standing ovation that lasted several minutes.
As the veterans in attendance exited the conference, the dismay of those rallying against Trump was expressed angrily.  Signs exhibiting vulgar language and slurs were held high, as a crowd across the street from the Convention Center gathered under the blazing sun.
On the frontline of the protest was Baltimore activist PFK Boom, best known for calling out Baltimore pastor and fellow activist Jamal Bryant.
Boom was very vocal in his disdain of Trump, as well as taking time to discuss the continuous argument of "Black Lives Matter" as opposed to "All Lives Matter".
"I'm three-fifth's of a man on paper, we are labeled a domestic animal," said Boom. "So if All Lives Matter, tell Trump to mess with that Constitution, women aren't even written in it."
On the other side of the sidewalk, Baltimore resident Adrian Ferrell stood alone, shouting at Trump supporters through a microphone attached to a speaker on a dolly.
Ferrell takes his microphone all around downtown daily, spreading "knowledge for unity."
"We know that Donald Trump does not have a poor black agenda, a poor white agenda, a poor latino agenda," Ferrell said. "He is not for the poor; it would be reckless to put a man as self-centered and inferior in office."
Despite the hostile crowd, Washington D.C. resident Melba Jones, stood amongst adversaries in support of Trump.
"Donald Trump is going to do what Obama and all of the past Democrats couldn't do, he is not afraid to be disliked," she said. "The change is coming!"