Weather was a factor for Morgan State University's 140th commencement ceremony. The commencement was originally scheduled for Hughes Stadium but was moved to the Talmadge Hill Field House due to rain, Saturday.
For some students, the university's decision to move it into the gymnasium was not given with enough notice.
"If they were to announce it earlier and maybe a bigger venue it would have been helpful. My family drove at least 4 hours to get here," said Dwayne Wilkins, an architecture graduate in the School of Architecture & Planning from Norfolk, VA.
"They could have done it ahead of time and possibly moved it to another day. I'm pretty sure no one would have had an issues because everyone knew it was going to rain," he added.
The weather affected the graduation plans for students at MSU and their families as prospective graduates were only given four tickets to accommodate their needs.
Toni Hilliard, a civil engineer graduate from the School of Engineering who resides in Washington D.C., said, "I'm pretty hurt about it [the weather], I've invited everyone in the world and now they can't get in."
"People couldn't sit together, and family that traveled couldn't sit with my other family and that makes it really sad. It was about togetherness and unity today," said Kimberly Jackson, a social work graduate from the School of Social Work and a Baltimore native.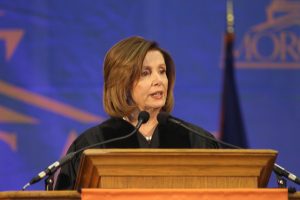 During the ceremony there were crowds who were denied entry into the field house. That caused altercations that could be heard in the arena during Rep. Nancy Pelosi, house minority leader's commencement speech.
Pelosi herself acknowledged the noises from the crowd outside during her speech.
However, the Baltimore native did want to leave a message with the graduates. In her prepared remarks, Pelosi said, "So my message to the class of 2016 — as you go forward: Insist on the truth, believe in the bigger vision and know your power and use it."
After Pelosi's speech there were still some audible noises that attendees heard. Opposed to the Hill Field House, the university offered satellite locations on campus where graduates' families could watch the ceremony live. However, the locations filled up quickly and there were some reports that the live stream signal was not functioning properly.
University President David Wilson offered graduates personal recorded copies of the commencement.
"I wish I had the most powerful prayer to send up to God to have the way we have the ceremony in the traditional way." He said, "I want to say to the 829 graduates we will send to you a personal copy of the entire ceremony for you to keep forever," said Wilson.