On Tuesday morning, grieving Morgan State students were allowed to address safety concerns at a board of regents meeting after the death of Gerald Williams.
Williams, 20, a Multi-platform Production major, was stabbed in Morgan View on Monday evening during an altercation.
Senior Speech major Chinedu Nwokeafor tried to save Williams's life but was unsuccessful. Williams was pronounced dead at John Hopkins Hospital.
"Safety is a huge concern on this campus," said Nwokeafor to the board. "My concern is for me and the remaining 6,000 other students is if our parents are sending us to this institution, if we are taking out loans, our safety must come first."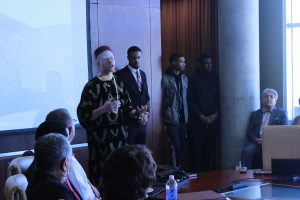 "This is our third stabbing in 11 months," Nwokeafor went on to say. "That should not be happening, students should be safe, police presence should be on all parts of this campus."
Although campus President David Wilson was not in attendance, board Chairman Kweisi Mfume was sure to hear his concerns loud and clear.
"We collectively as a board mourn the loss of the student that was killed last night," said Mfume. He guaranteed that the message wouldbe heard by Wilson as well.
Vice Chairwoman of the board Rev. Frances "Toni" Draper, a relative of Williams, spoke to Nwokeafor on his concerns.
"I share your pain," she said. "The family found out late last night and we are devastated by the loss of any young life whether it's our family or not, so we share your concerns." Draper thanked Nwokeafor not only for sharing his concerns, but also for trying to save Williams's life.
Three other Morgan students were at the meeting that knew Williams but did not speak on the matter.
Vice President of Student Affairs Kevin Banks assured that the matter of safety was to be further discussed later that evening in another meeting in the President's office.