Dim lights, live Christmas music playing and Christmas decorations around the room; this was the inviting setting welcoming all to the Morgan State University's Memorial Chapel and their first annual Christmas concert, "Pure Christmas."
This being their first annual concert the gospel ensemble held, you'd expect them to put on their very best show and that is exactly what they did.
When you hear the words "Christmas concert," you expect to hear "Jingle Bells," "White Christmas," or "12 days of Christmas," but that was not the case here. The gospel ensemble filled the room with not only holiday spirit but with the Holy Spirit as well.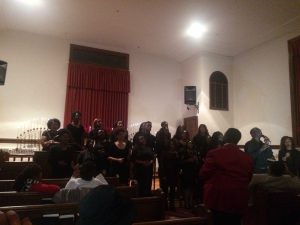 As soon as the program began the ensemble sang with power, spirit, and energy. Every performance through the night held the crowd captive in their song.
The most riveting performances of the night were the acapellas of "Silent Night" and "Carol of the Bells." There was also an emotional portion of the performance when a member of the ensemble performed spoken word poetry. The whole room was hanging on to her every word and snapping in praise to her voice.
The concert was an extremely diverse affair; from singing, to speaking, and then to playing instruments. This ensemble had some truly amazing musicians, especially the trumpeter, the drummers and the flutist.
The night was a beautiful and spiritual event for these Morgan students to share their music, their song, and their voice. This was the time for them to say "this is my story and this is my voice, hear me."
The whole performance was a total success, this concert deserves two thumbs up. This ensemble has a lot of strength in their voices that must be heard, the second annual Christmas concert can't come soon enough.