Grand Opening of the Earl G. Graves School of Business and Management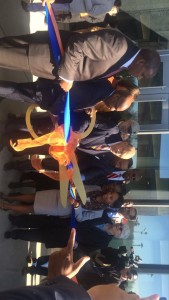 Sixty-two years ago this past September, Earl G. Graves Sr., stepped onto the campus of Morgan State College with dreams, aspirations, and a desire to make a difference in this world.
Friday morning, Graves returned to Morgan State University as founder and publisher of Black Enterprise Magazine, to be honored in the grand opening of the Earl G. Graves School of Business and Management, named after him.
The building was an $80 million investment from many supporters and contributors, including Graves. There are currently 1,300 students enrolled into this school of business.
Supporters such as Lt. Governor Boyd K. Rutherford, Senator Joan Carter-Conway, Sen. Nathaniel McFadden, as well as faculty and staff gathered with Provost Gloria Gibson and President David Wilson to speak on the significance of this new building and most importantly to thank Graves.
"It was on these grounds, Northwood Shopping Center and elsewhere in Baltimore that in the late 1940s and in the 50s that the first student protest in this nation occurred," said Wilson. "And it happened with students of, what was then, Morgan State College."
Dean of the new business building Fikru Boghossian, could mainly describe this building in three words.
"There are three words that come to mind when I think about this new building. The first is excitement; excitement in the sense that this building offers a learning experience like no other. The second word that comes to mind is opportunity; we have the opportunities to do things like never before," said Boghossian.
"The last word that comes to mind is legacy; we have champion alums that broke new ground. This school has produced new leaders and entrepreneurs, Mr. Graves is an example."
Every speech concluded with gratitude towards Graves and his family, mainly with applause.
Sen. McFadden offered anecdotes to further express the significance of this new building.
"51 years ago, we came, we would walk through the shopping center like we were criminals," said McFadden. "We continue to make progress in this city and in this state and we will educate the future Earl Graves in this building. We will challenge the University of Maryland, Kevin Plank won't have anything on what we turn out in this institution."
The Cook County Commissioner made an announcement that caused a wave of "oooohs" and "ahhhs."
"The school of business management is named in honor of Earl G. Graves, Sr., a 1957 graduate of Morgan State University College and founder of Black Enterprise Magazine. Black Enterprise is now a covenant resident of Cook County. Because of what you guys have done, I have named this day Earl Graves Business School Management Day in Cook County," the commissioner announced.
It is clear that this school holds importance and value to not only current students but former students as well. There is so much history on the grounds and now so much future held in it. This building was very important to Graves and his family, which he brought with him to celebrate.
"This has been a truly remarkable personal journey for me, which I will remain eternally grateful. You make me very proud. I'm very proud of this university," said Graves. "To come back and after having graduated and see all of this and to see the people, see the integration with all this racism going on in our country, it's just very exciting to me. I think that the school is beautiful, the enthusiasm of the folks is wonderful."
With a day of welcoming and thanking, Earl G. Graves School of Business Management is officially a part of Morgan.
As said by Sen. McFadden, "We dedicate a building, but we launch lives."