The Baltimore rap scene has came a long way since hometown kid B.Rich exploded onto the rap scene with Whoa Now. The song went from a regional hit to being featured on EA Sports NBA Live 2003 soundtrack.
Two artists are currently vying for the throne in Charm City – West Baltimore's Lor Scoota and East Baltimore's Young Moose. Scoota has achieved regional acclaim with his 2014 hit Bird Flu, garnering attention from Rick Ross' Maybach Music Group. Young Moose has made quite the name for himself over the last year with his own hit Dumb Dumb. With his lengthy rap sheet, Moose has garnered just as much attention from law enforcement.
Regardless of his legal troubles, Moose's talent is undeniable. His popularity has led him to being signed by his biggest rap influence, Baton Rouge artist Lil Boosie. The newest member of Bad Azz Music Syndicate is looking to take prove he is not just a Boosie wannabe, and send a warning to the industry.
Many artists rap about life on the streets, but few can manage to tap into the every emotion of the listener. Although still very raw, Moose possesses the intangibles that are present in all of the rap legends. A locomotive flow, combined with street savvy and an emotional approach oozes a long career for the 22-year old.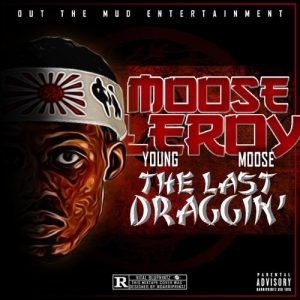 Moose Leroy: The Last Draggin' is the first release from the Baltimore artist on his new label – and his best work thus far. Its obvious Boosie has served as a mentor on the project, helping to mold Moose into a better artist.
Boosie and his cousin Young Donkey hop on the "Dumb Dumb Remix", adding the Trill sound to the street anthem.
For the most part, Moose sticks to features from his O.T.M (Out The Mud) family, but he enlists neighboring Prince George's County artist Suavay on Problems.
Most of the project is an ode to mixtapes of the past, with most of the tracks being actual freestyles over other songs. Anybody can rap over an already popular hit, but a good artist can make a standout track that is as compelling as the original.
On Start From Scratch Freestyle, Moose takes on a classic from The Game's legendary 2005 debut album The Documentary. Moose takes us back to the death of his best friend Shawn-Man as he floats over the bass-knocking Dr.Dre production.
"Made a promise to my nigga, he know I'm gonna ride. When I tell you that I been through some shit, don't look surprised", Moose spits with raw pain.
Moose takes us through his teenage years running the streets of East Baltimore, as he freestyles over Baby Boy Da Prince 2007 hit The Way I Live. Re-titled How I Live, Moose paints a street tale using his distinct Baltimore drawl.
The standout track of Moose Leroy is Woe Woski with O.T.M. artist Lor Cousin. Laced with a catchy hook and a trunk-rattling beat, Moose talks about the moniker in his neighborhood for his gun. Moose manages to warn potential enemies of his skills with a firearm and tell a street tale all in one track.
Lines like "Woe woe gon move him around, like he was bumping go-go", paired with a sample of D.C gogo legends Junkyard Band is sure to appeal to Baltimore's neighboring city.
With this project, Moose has undoubtedly laid claim to the title of Baltimore's best artist, while establishing himself as an artist to watch for rap fans across the country. The only downfall to the project is the lack of original songs. With one of the most successful street rappers to ever come out of the south backing him, it will be interesting to see Moose develop as an artist.
Now it's time for Moose to stay out the mud, and out of trouble.
3.5/5