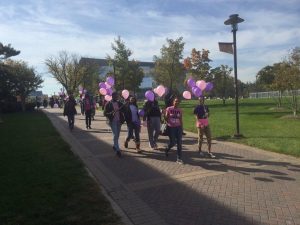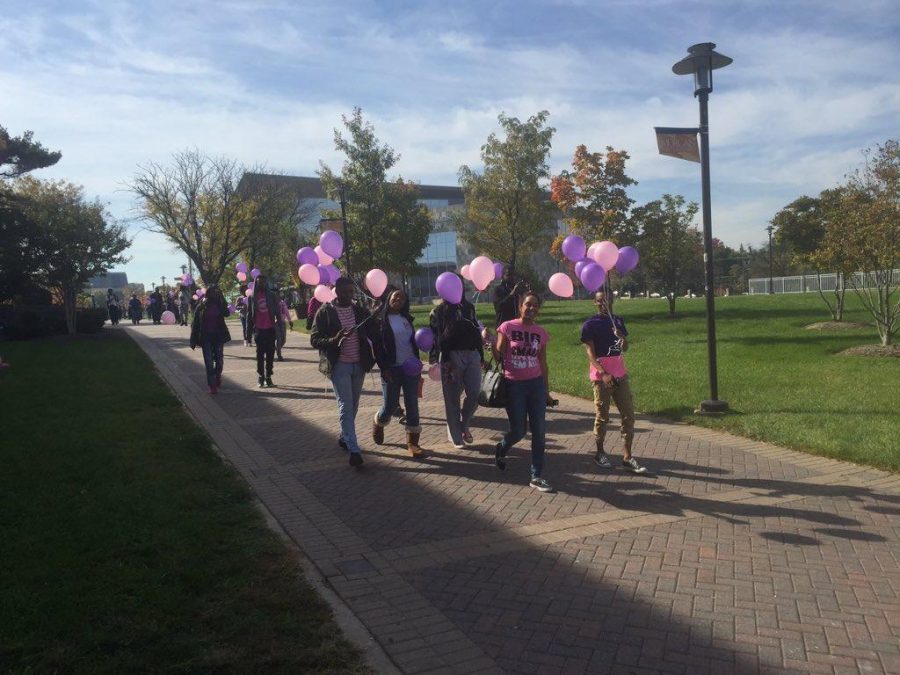 The National Society of Leadership and Success' Morgan State chapter walked Thursday morning to commemorate Breast Cancer & Domestic Violence awareness month.
Dozens of Morgan students created a sea of purple and pink as they carried balloons from the student center to the quad in front of Holmes Hall.
The group passed around a permanent marker so that everyone could personalize their balloon the way they pleased. Some dedicated the balloons to family members or friends who have been directly affected by the two causes. As a group of potential students were being given a tour around campus, the NSLS encouraged them to partake in the walk.
After a short prayer and moment of silence for the lives lost, the group released the balloons in the sky. This was met with applause as those in attendance reflected on the powerful moment.
Senior Dominique Brown, President of the NSLS, hoped that the event would spread word as to why breast cancer awareness matters to students at Morgan.
"Breast cancer affects women as well as men, and not enough men understand that" said Brown, sporting a shirt that read, "Big or Small Let's Save 'Em All."
Her aunt is a breast cancer survivor, and her mom has the gene. Her goal is to use the tools she has been given to enlighten students about breast cancer and domestic violence, asking students not to "ignore the signs."
"A lot of people on our campus say I want to mind my business. Sometimes you can mind your business but you also need to ask questions," said Brown.
For junior publications major Larry Franklin, the publicity chairman of the NSLS, watching his best friend's grandmother lose both breasts to breast cancer motivated him to raise awareness. Franklin wants the university to host "fun educational events" that will educate and entertain students.
He posts health awareness alerts for every month and motivational quotes and statistics on the NSLS social media pages.
"I feel like we should have a whole convocation about Breast Cancer Awareness, it affects so many of our women," said sophomore Sean Osborne II, and E-board member of the NSLS. Osborne also said, "domestic violence is an issue that needs to be talked about more, and I think this walk will put it in students minds."
The balloons are gone, but the fight is still alive and well at Morgan State.