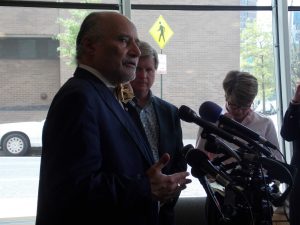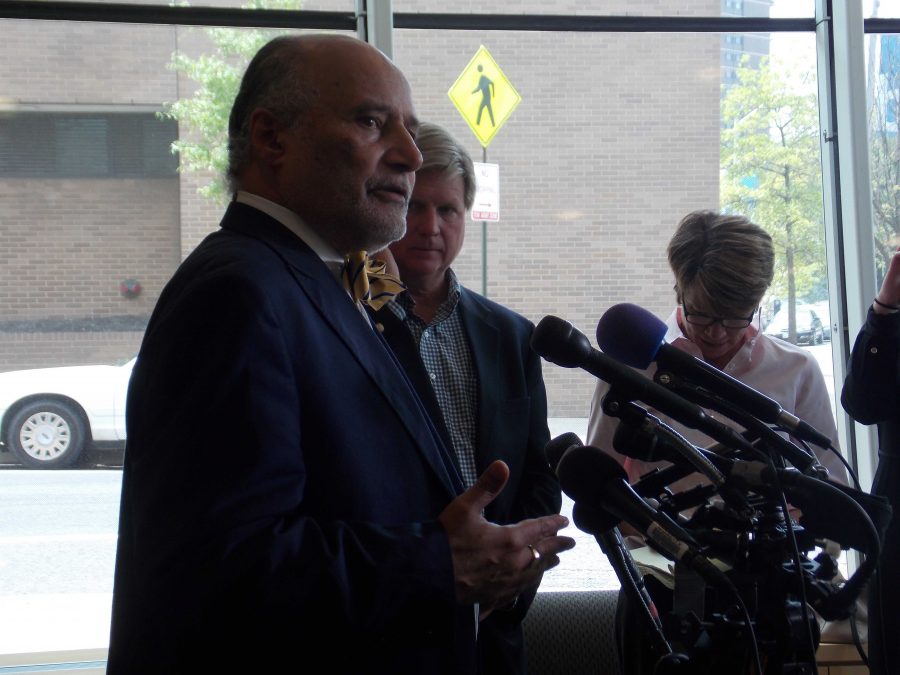 By Herman Fogus
BALTIMORE—The new Attorney General for the United States was in Baltimore for several meetings on Tuesday, one week after riots forced a state of emergency onto the city.
Attorney General Loretta Lynch first visited the University of Baltimore to meet with several state officials and local community leaders. Lynch's visit is the first visit by a member of the Obama administration since last week's riots.
Among the leaders and officials meeting Lynch were State Representatives Dutch Ruppersberger, Congressman John Sarbanes, Congressman Elijah Cummings and State Senators Barbara Mikulski and Ben Cardin. All five spoke to reporters in the lobby of the university's student center after the meeting, as did Billy Murphy, attorney for the family of Freddie Gray.
"She clearly understands the pain that the city is feeling, but she also knows that the community is going to come together and is already doing that in a way that moves Baltimore forward," Sarbanes told reporters. He also said that Lynch told them that President Obama and his cabinet were looking into ways to "bring the resources of their various agencies to bear in a way that can make a difference."
"It was wonderful for the first black woman attorney general…to care so much about our city that she came here today to express her full involvement in coming up with a solution to our common problems," Murphy said in a short statement. When asked about the meeting, Murphy said that Lynch was understanding of the Gray situation and said that Baltimore should welcome her "with open arms."
Senator Mikulski and Representative Cummings expressed similar gratitude and hopes. Mikulski said that Lynch told them she came to "listen and learn from the community" in the quest to move forward. "The Justice Department has the power of the purse to begin to restore the trust between the community and the police department," she told reporters. Mikulski also said that the "broken window" policing policy had to be reevaluated.
"One of the main reasons why we wanted her to come was to assure the citizens of our city that the Justice Department was continuing its collaborative investigation, which began back in October, and to let the citizens of Baltimore know that her staff is continuing with the most recent investigation, with regard to Freddie Gray, and that is the civil rights-criminal investigation," Cummings said. "And she has done that."
Following her meeting at the University of Baltimore, Lynch met with the Mayor and the Police Department, before heading to separate meetings with other community leaders and youth leaders.
The press was not given access to the meetings. Calls to the Department of Justice regarding these meetings have not been returned.