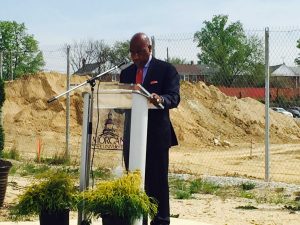 On April 30, Morgan State University, in partnership with the State of Maryland, broke ground on the $79.4 million Martin D. Jenkins and Behavioral and Social Sciences Center.
The Jenkins building will be 148,000 square feet and will have additional classrooms, laboratories and office space.
Jenkins will be adjacent to the new Earl G. Graves Business Building, which is located at the East end of the Northwood Shopping Center.
"Today is a glorious day celebrating the future of Morgan State at the groundbreaking of the new Jenkins Behavioral and Social Sciences Center," said Provost and Senior Vice President of Morgan State University, Gloria Gibson.
Dr. Kevin Banks, Vice President for Student Affairs, said, "Having these educational programs in a building that is state of the art is going to be beneficial to helping our students learn to be able to go out there and, in fact, change as they graduate from Morgan State University."
Banks also commented on where Morgan State is currently positioned in this 10-year plan.
"We are at the midway point in the strategic plan, so the fact that we are erecting two brand new facilities in less than 15 months is outstanding," said Banks.
According to Morgan State's website, the 10 year strategic plan is President David Wilson's vision for the university. It is "focused on urban sustainability and applied research on intractable challenges facing Baltimore and other urban centers across the nation and around the globe."
"We had a wonderful groundbreaking ceremony today," said Wilson at the conclusion of the celebration. "We were able to attract many of the supporters who have seen the value of investing in Morgan State University."
Wilson added, "There is a historical, instructional and academic significance. The historical significance is that we're breaking ground on another building on a site where students at Morgan could not even venture onto."
Wilson further added, "We are determined here at Morgan to continue to build facilities that will be world class… and all of this is apart of our strategic plan which is to continue to grow the university, not just in terms of students and programs, but in terms of world class academic facilities."
The Jenkins building is scheduled to open in the summer of 2017.
Photo Credit: Terrance Smith
To see more photos from this event, click here.