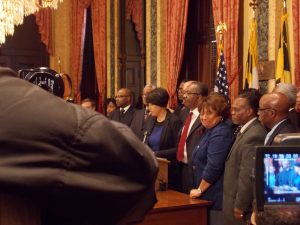 Baltimore Police Commissioner Anthony W. Batts dismissed calls for his resignation Friday, April 24, just hours after Mayor Stephanie Rawlings-Blake demanded answers in the investigation into Freddie Gray's death.
"I am clear that Reverend Gwynn of the Minister Alliance has called for my resignation. That's not going to happen," Batts told reporters at an afternoon press conference held at the Police Administration Building on East Fayette Street. "I'm focused on my job. I'm focused on leading this organization."
Batts' rebuttal came in the same day that Rev. Alvin Gwynn, Sr., head of the Interdenominational Ministerial Alliance of Baltimore, demanded that the police commissioner step down. According to the Baltimore Sun, Gwynn said that "Batts has shown a lack of viable leadership capabilities."
Rawlings-Blake also held her own conference at nearby City Hall, just a couple of hours before the Baltimore Police Department. In her presser, Rawlings-Blake expressed strong wishes to find out the cause behind Gray's death.
"Our community has made it clear: they demand answers. And so do I. I still want to know why the policies and procedures for transport were not followed," said Rawlings-Blake. "I still want to know why none of the officers called for immediate medical assistance, despite Mr. Gray's apparent pleas."
Freddie Gray died April 19th after suffering a severe spinal cord injury while in police custody one week prior. It has been revealed in the days since his death that Gray was not belted into the seat of the paddy wagon that he was loaded into after his arrest.
The police press conference was held, according to the mayor, to update the public on the ongoing Gray investigation.
During the conference, Batts announced that video and still images would be released to the public and that a taskforce of more than 30 officers was conducting "a massive investigation" including interviews, neighborhood canvassing and CCTV analysis.
"A step-by-step meticulous investigation is taking place," said Batts. "It is much like you go to an ophthalmologist and he asks you, 'Can you see this picture?' We're refining our investigation and getting closer to where the picture is getting sharper as we move forward."
However, when asked about the details of Gray's transport, neither Batts nor Deputy Commissioner Kevin Davis could readily answer questions.
"Each and every leg of this transport is being investigated," said Davis. "Beyond the route that was taken, we need to know, from A to Z, what occurred at each and every stop."
The police department and the mayor both said that they met with community and church leaders. Some of those leaders, like the National Association for the Advancement of Colored People's Baltimore President Tessa Aston-Hill, were present at the mayor's press conference.
With a large protest expected in the city for Saturday afternoon, a common thread throughout both conferences was a desire for peaceful unity.
"We're a community that is determined to be better, to grow, to learn, to seek justice and to find justice," said Rawlings-Blake. "But we want to do it in a peaceful way."
Photo Credit: Herman Fogus