Baltimore Residents Demand Answers for Freddie Gray's Death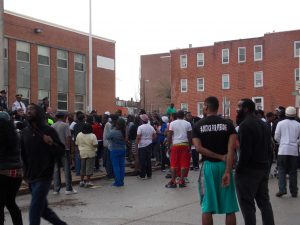 By Ashley Childs and Herman Fogus
After being in police custody for one week, Freddie Gray died Sunday, April 19. He was arrested around 9 a.m. on April 12 after a brief chase with Baltimore City Police.
The 25-year-old allegedly suffered severe spinal injuries at the hands of six police officers, all of whom have been suspended with pay.
"What we know is while in police custody for committing no crime, for which they had no justification for making an arrest, except that he was a black man running, [his spine] was severed," said William "Billy" Murphy Jr., a lawyer representing the Gray family.
At a press conference held Monday, April 20, Deputy Commissioner Jerry Rodriguez and Mayor Stephanie Rawlings-Blake said that they are unclear as to how and when Gray was injured.
"It's clear that what happened, happened inside the van," said Rawlings-Blake.
"What we don't have at this point is how Mr. Gray sustained those injuries," said Rodriguez. "We are working tirelessly."
An investigation as to why Gray was apprehended in the first place is ongoing, according to police officials.
According to the police report, Gray made eye contact with officers then immediately ran.
"[We have to investigate to see] if there is more than just running," Police Commissioner Anthony W. Batts said at Monday's press conference. "There is no law against running."
Protesters have gathered for the past week in hopes of getting justice for Gray.
At the Western District Police Station on North Mount Street, protesters gathered outside to express their discontent at the latest police-involved incident. Chants of "No Justice, No Peace," resonated sporadically throughout the large crowd, even after an early-evening rainstorm briefly disrupted the proceedings.
David Williams, a West Baltimore resident who claimed to have known Gray for 15 years, was among the most vocal of the protestors.
"They talking about next Friday for an investigation or a release of facts. Freddie'll be in the ground by next Friday," said Williams. "We want facts before we put him in the ground."
Other protestors shared similar feelings.
"I think we have to call on our politicians and demand some answers," said Rosalind Jones, another West Baltimore resident. "Demand, not ask."
"People are angry, and they're hurt, and people are outraged that this brother was killed like that, and that it happens a lot in Baltimore," said Dominique Stevenson. "I'm hoping that people are planning on organizing, not just demonstrations, but organizing some activities to deal with it…we have to start policing our own communities."
The fact that the six officers who were involved were suspended with pay also baffled and angered the protesters.
"It's not a suspension if I get paid," said Jones. "It's a vacation."
*Photo Credit: Herman Fogus
To see more photos from the protest, click here.