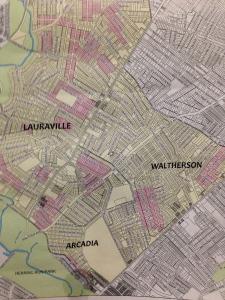 It was First Friday, and Jen McCain braved the sub-freezing weather with her two-year-old son for free cupcakes at Hamilton Bakery, which provided its customers with the choices of chocolate, lemon, and even one made with Guinness Stout.
The first Friday of each month is when the Hamilton community promotes better relationships among residents and local businesses, creating a small-town atmosphere on Harford Road which, some leaders refer to as "Main Street". Restaurants offer discounts and the bakery gives away free cupcakes.
"I'm from this area and First Friday is a great idea for local businesses to receive more help from the community," said McCain, a social worker who regularly visits the bakery at Harford Road and Hamilton Avenue. "I'm actually out here because my son goes to a local middle school, and his art work was in the art show."
The art show was held at Hamilton Arts Collective, just down the street from the bakery. All the artwork came from six local schools in the Hamilton area — Hamilton Elementary, St. Francis of Assisi, City Neighbors Charter Schools, City Neighbors High School, Sudbury's Arts & Ideas and Garrett Heights Elementary.
Across the street from the bakery, where there were very few people coming through in the early evening, Herb and Soul, a soul food restaurant, was hopping with people on this month's First Friday. The "fusion" soul food restaurant  was offering a ten percent discount on all food, from chicken cheesesteak subs to curried lamb pasta.
"For First Fridays we're providing discounts. We're not pushing the discounts, but  it's a way to get the community to try us, enjoy and want to come back and pay the extra ten percent next time," said Gabriel Finch, a manager at Herb and Soul.
Finch, who is 20, began working at the original Herb and Soul in Parkville two years ago and is a friend of the son of one of the owners. He took over his role as manager on Harford Road when it opened in November.
"The community is great," he said. "The people of Hamilton are very supportive and the business stays profitable because of that," Finch said. "As someone who grew up in the area I've seen businesses grow, move around the corner and revitalize themselves…Hamilton has the potential to be somewhat like Fells Point."
Alex Zavier and John Eaton were there because they were hungry, not because of what was going on with First Friday.
"We're not super aware of what happens on First Friday. We heard something about an art gallery, though," Zavier said.
She and her housemate, John Eaton, bought a duplex in the Hamilton area. "We moved from Charles Village to Hamilton three years ago and felt totally removed from things but now we are currently happy," Eaton said.
Charles Village is, according to the Baltimore Sun, "a must see for all Baltimore visitors."
"We love the area and being able to walk to things that are useful to us. This neighborhood is already attracting great crowds and is one of Baltimore's oldest racially and socially economic integrated communities," Zavier observed.
Eaton added, "Hamilton gives a great variety and is way cooler than Lauraville. Lauraville is trying to be hip cool but, Hamilton is more egalitarian."
-30-