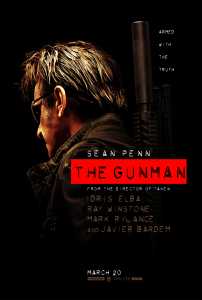 Every so often, a movie comes along that underuses or misuses a well-known star.  Sometimes this is deliberate and actually provides a nice subversion; for example, 1996's Executive Decision is a fairly forgettable action film that is best known for having the audacity to eject then-action-megastar Steven Seagal from a moving plane at about 35,000 feet without a parachute.
2015's The Gunman, on the other hand, misuses three of its' big names. Unfortunately, not only does it appear to not be deliberate, but none of the stars even get a spectacular sendoff.
The movie follows Jim Terrier (Sean Penn), a former Special Ops soldier and mercenary whose long career has left him with debilitating headaches and memory loss.  In 2006, Terrier flees the continent of Africa after carrying out a hit on the Democratic Republic of Congo's Mining Minister.  Eight years later, when an murder attempt on his life fails, Terrier goes to track down and connect with his former partners in order to find out who wants him dead.  In the process, he meets up with the woman he left behind (Jasmine Trinca) and inadvertently puts her in danger.
On the bright side, the storyline is not that bad.  With writer's credits going to star Penn, Don Macpherson and Dredd director Pete Travis, the winding tale that starts in Africa and ends up in Spain is engaging and entertaining, and maintains a solid, tension-filled pace throughout.  Penn is appropriately brooding and intense as Terrier, portraying him as a battered and weathered individual who has little issue with kicking butt and taking names when the situation calls for it.  He also has solid chemistry with Trinca, who plays long-lost girlfriend Annie.  Their scenes together may look a little awkward, given their 20-year age difference, but they feel genuine.  And then there's the action; directed by Taken's Pierre Morel, the varied sequences are frenetic, but well-shot and authentic.
With that said, the movie has its' downsides, and they do stand out.  Perhaps the most glaring of them is the absolute wasting of co-stars Javier Bardem, Ray Winstone and Idris Elba.  All three actors receive star billing on the movie's promotional posters, and Bardem and Elba factor heavily into the film's trailer.  But when it comes to the final product…they just aren't there.  Winstone fares best as Terrier's friend Stanley, but (and without spoiling too much) he's essentially a physical beacon for when the story's heading into a game-changing moment.  Elba's role, as a shadowy man named DuPont, is blink-and-you'll-miss-it, but a scene in which he encounters Penn and suggests that he "build a treehouse" – it totally makes sense in context – lets viewers have a too-small taste of his natural swagger and charisma.
The real disappointment concerns Bardem, though.  Throughout his career, he has owned some strong, memorable villains – from a Santeria-worshipping killer in 1997's Perdita Durango, to the creepily menacing Anton Chiguru in the Coen Brothers classic No Country for Old Men, to a classic role as Bond villain Raoul Silva in Skyfall.  Here, though, he gets no such love; as Felix, Bardem seems to sleepwalk throughout most of his screen time.  The movie teases a potential subplot between Felix and Terrier, as Felix had eyes for Annie during their time in Africa.  Unfortunately, that subplot is stopped cold almost an hour into the movie with Felix's truly unceremonious exit.  The only solace on this front comes just before he goes; Bardem gets to deliver the one somewhat humorous bit of the entire movie and show viewers just what could have been.
As easy as it would be to suggest that the casting director never work on another film again for these transgressions, elements of the story suggest other forces at play.  While the plot moves smoothly for the most part, certain twists are easily telegraphed, even to viewers unfamiliar with the action and thriller genres, and the final third of the movie relies on several contrivances that don't easily blend in. This is most evident in the climax, which takes place in a packed bullfighting arena.  In addition, given the underlying theme of mercenaries swaying African politics, the movie's ending is just a little too wrapped up and neat to make complete sense.  It's satisfying…but too neat.
The plot issues are minor quibbles, though, compared to the blatant underutilization of its' big-name stars.  Ultimately, that is what holds The Gunman back from being a truly top-notch thriller.  While it's definitely worth a viewing, there is simply no way to look at the absolute lack of Idris Elba and Javier Bardem as anything other than a dangerous pair of misfires.
The Gunman, directed by Pierre Morel and distributed by Open Road Films, is in theaters now.