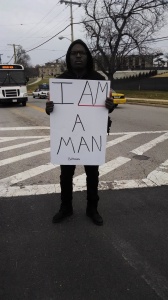 Morgan students gathered at 11 a.m. yesterday to protest the Ferguson, Mo. Grand Jury decision to not indict police officer Darren Wilson for the death of 18-year-old Michael Brown.
Students blocked intersections around Morgan's campus and throughout the city as they marched peacefully towards City Hall to meet other protesters chanting, "No justice, no peace! No racist police!"
"Hands up! Don't shoot!"
The police followed on bikes, horses, by foot, vehicles, and helicopters.
The protesters also sang, "Ohh I've got a feeling. Ohh I've got a feeling that somebody's trying to hold us back, and it ain't gonna be no s–t like that."
The police cleared the streets until the groups walked on one-ways through stopped traffic.
"We want our voices to be heard," said student and one of the organizers of Morgan's protest Chinedu Nwokeafor. "We're not standing for injustices in our cities and in our communities. We have the power of education. It's up to us to get these positions of power. That's on us."
In front of City Hall, Nwokeafor said to the large crowd that had formed: "You see, these are the issues we are dealing with. And this is why it is important that we all vote, that we get as many of our people to vote. Get the correct people in legislation. Because these people ain't trying to help us out. If you ask me, they're trying to re-enslave us. That's what they want."
Nwokeafor encouraged participants not to shop on Black Friday. He said that the only way to make an impact was through capital.
"The only thing that hurts these police people is their pockets," Nwokeafor said, "They can shoot any one of us and still get their pensions."
Sequean Mahake, a student, said, "It more than race. It's about education." 
Tawanda West, the sister of Tyrone West who died in police custody last year, spoke about other local victims of police violence.
"We [are] all family out here," she said.
She and supporters meet every Wednesday at 6 p.m. in front of City Hall to demand information about his suspicious death.
Next, the march moved to McKeldin Square, picking up protestors and blocking traffic along the way.
On Pratt and Light streets, everyone knelt or sat in silence for 4 and a half minutes to reflect on Michael Brown. The time signifies the 4 and a half hours Brown's body remained on the street after his death before it was removed.
The group rested at other major intersections.
Brian Stewart, senior, said: "But it's important that it happens. Because as a young black man I go to college, and I get a job but as of today that doesn't matter. Something could happen that I could lose my life tomorrow. And so we are protesting in solidarity: One, the justice system needs to be fixed. And two, to recognize that there is a different experience against the black community. And we are tired of it and this protest is not an act of aggression. It's not to hurt or harm anything, it's a way to let our voice be heard. A riot is not what we're doing. We are protesting peacefully. We have not hurt anyone. We have not knocked anything over. But what we have said is that our voices as American citizens must be heard."