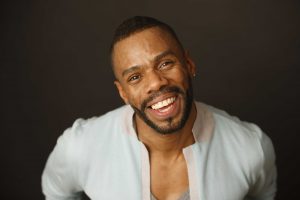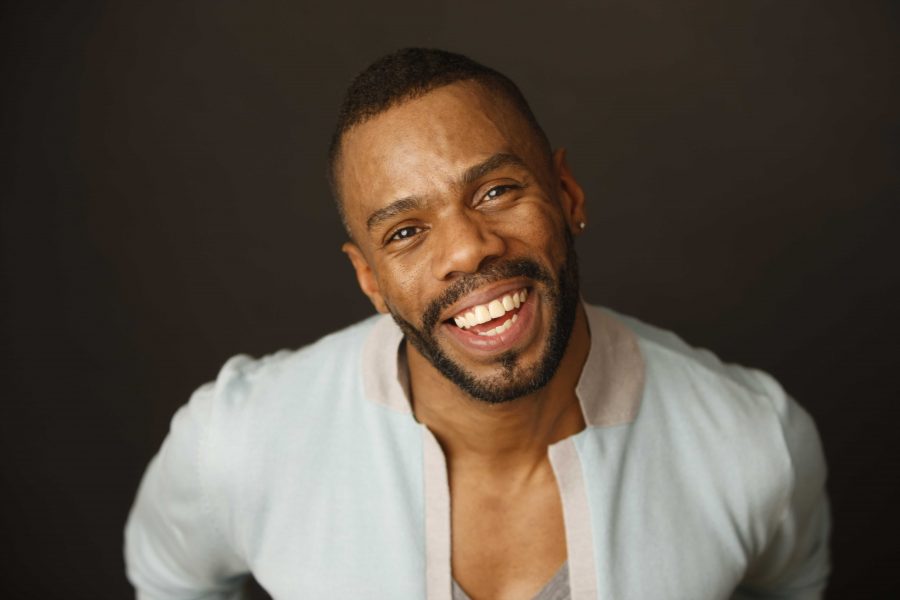 On a June morning in Georgia, Colman Domingo sips a cup of coffee trying to revive himself after a 10-hour stretch of filming the night before. Simultaneously, the play he wrote, Wild with Happy, is opening at Baltimore's Center Stage and runs through June 29.
A Tony-nominated actor who has been in a variety of film and stage productions over the years, Domingo is in the process of filming Selma, a movie where he portrays civil rights leader Ralph Abernathy. He is also a playwright and director. Speaking with a reporter by phone on June 7, Domingo acknowledges it's a grueling schedule. Still, he is enthusiastic about his play opening in a regional theater after at run at The Public in New York City.
Wild is the story of struggling writer and actor, Gil, who is trying to come to terms with his mother's recent death. Horrified at the cost of coffins and funerals, he opts to cremate his mother—a decision that his mother's sister, Aunt Glo, objects to. In the course of the play Gil argues with his aunt, meets a love interest (the funeral director), and is whisked away by his best friend—with his mother's ashes—to Disney World.
"The play was not necessarily inspired by my own mother and father's passing," he says, explaining that in the course of talking with friends who'd lost a parent, he was struck by the different grieving processes and rituals. "My healing was different than theirs," he says. He used humor and satire to illustrate this in Wild.
Domingo recalls how his friends "fought [grief] for years and it turned into addiction to sex, drugs or alcohol because they haven't dealt with it." He wanted to write the play from this perspective based on his belief that "death is all about the survivors." Part of survival is learning how to heal from loss and adapt to change. For him, theatre can be a way of expressing that.
Domingo's route to the theatre was an unusual one. He grew up in an inner city working-class neighborhood of West Philadelphia during the mid-'70s and '80s where hard work and community were emphasized. "We had parents from the '60s that felt important about community and education and being sure we got ahead," he says. The pride in the community was shattered, however by a devastating event that Domingo vividly remembers nearly 30 years later.
On May 13th 1985, Philadelphia Mayor Wilson Goode dropped a bomb on the roof of a row house containing members of MOVE, a radical group that resisted science and technology, in an effort to push them out of the neighborhood because of complaints. Eleven people died, five of them children. "I grew up on 52nd [Street] and it happened on West 63th in the afternoon, Domingo recalls. "I could see the smoke billowing blocks away. I'm still not understanding exactly what happened with the first black mayor doing the bombing." At 15, he witnessed something he describes as "radical" in the MOVE bombings that taught him, he says, how quickly life can be uprooted by events beyond your control.
Still, he stayed local as a young man, attending Temple University where he majored in journalism. Afterwards, he moved to San Francisco "because my best friend moved there and he was loving it" and because he wanted "to be self-reliant in every single way, to identify not only who [he was] sexually but how to find [himself]." In San Francisco he became a more "artistic person" and got involved in the theatre. He was cast in his first play, Inner Circle, an AIDS education show that toured high schools. The show was part of the New Conservatory Theatre where he received his unconventional acting training. "I got all my training from working with Shakespeare or Circus companies and I used that as my conservatory," he says.
After living in San Francisco for a decade, Domingo says he needed to "set boundaries, so I moved to New York City and [I've] been here now for 14 years." The relocation to New York led to a steady increase in the television, movie and Broadway roles ranging from performances as an Amsterdam hippie in Passing Strange and a victim of sexual abuse in Red Hook Summer to a parody of Maya Angelou in the Big Gay Sketch Show. He also starred as the character Billy Flynn in a production of Chicago on Broadway. For fun, Domingo says, one of his favorites roles to play is his own "alter ego," a character he calls Miss May Belle. "I call myself an old, old black woman at times [with] that seasoned, witty humor."
An openly gay black actor, Domingo says he hasn't faced a lot of obstacles in the theater. "If you don't make it a big deal, no one else is going to make it a big deal," he says. He makes no secret about his sexuality, but says casting "should be about the project." He doesn't want to be pigeon-holed as "the openly gay guy who does openly gay work," but he does accept "gay roles" at times when "they want the most capable to play the role." Domino recalls a question he once fielded. "Someone asked me, how does Spike Lee feel about you being gay?" But Domingo says, "we never sat around and talked about me being gay." Domingo believes that his sexuality is not a big deal, but recognizes that "there is a lot of homophobia in the film industry."
Still, he has landed a wide variety of roles in his career. Recently, Domingo played Freddie Fallows, lead butler in the 2013 film Lee Daniel's: The Butler, Private Harold Green in Lincoln and Chico in the indie film Newlyweeds. He has also appeared on Broadway in The Scottsboro Boys and Passing Strange which got him a Tony-nomination and Drama Desk Award nomination. Domingo has also portrayed characters from his own family. In the critically-acclaimed one-man show entitled, A Boy & his Soul, he plays his mom, his dad and his sister during the '70s in West Philadelphia. He received a GLAAD and Lucille Lortel Award for the play.
Domingo says that he "usually doesn't get the fluff" parts and likes to play characters that "have a lot of dimensions and power and humanity." How does he land that choice role? "It chooses me and I also choose it," he says.