MLK Remembered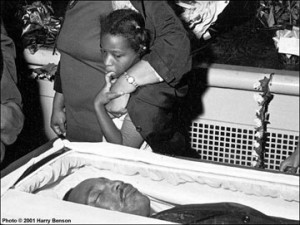 It was 7:08 p.m., a Thursday evening, April 4, 1968. Many people in Baltimore felt the same pain at the same time. In the Waverly community they still remember.
Donna Johnson, a professional cook, was preparing a meal in her kitchen when she heard her mother scream. "I dropped the pan filled with collard greens as the juices burned my flesh. I never felt so scared in my 17 years life," she said. "I darted to the living room leaving the food all over the floor just to check on my Momma."
Gloria Carter, a retired social worker, who lives in a senior citizens home, was sitting in her rocking chair watching the news as usual. "Next thing you know the anchorman said that Dr. King had been killed. My heart had dropped to the floor and tears flowed constantly down my face like a river. I was hurt, scared, confused–and I knew this was the beginning of an ongoing war."
Louise Brown was cleaning her living room. "I was just dusting away as I heard them say that Dr. King was killed on the radio. I suddenly stopped and turned it all the way up because I couldn't believe my ears. As I listened closely, they said it again. I screamed as I fell to the floor in disbelief. My heart was broken for him and his family."
This is the announcement millions heard on CBS Evening News: "Dr. Martin Luther King, the apostle of non-violence and the civil rights movement, has been shot to death in Memphis Tennessee. Police have issued an all-points bulletin for a well-dressed young white man seem running from the scene."
"Dr. King was a great and powerful leader," said Frederick Jones, who works in the Towson Town Center mall as a janitor, "and when I found out he was assassinated I fell to my knees and began to pray. I had to pray because I didn't know how our people were going to react. I was mad. I began to cry and pray and rock, hoping that God would change what was to come."
He went on: "Riots immediately began throughout different states. I knew he had an impact, but not one like this."
After his death, more than 100 riots took place throughout the United States, including in Baltimore. According to the Baltimore Sun, more than 1,000 businesses were looted or burned, many of which never reopened. Police used bayonets and chemical dispersers. A general curfew was set in the city limits and martial law was enforced. By the time the riot was over, six people were dead, 700 injured and 4,500 arrested. Over 1,000 fires were set. The total property damage was estimated at more than $13 million.
"I remember people being upset. People went insane," Johnson recalled. "I remember it being a scary day, and I asked my father what was going on and he said that they had killed Martin Luther King. He drove through the blocks just to see the chaos. The rest of what I remember is what you see on television today."