Anniversary of MLK's Death Reveals Generational Divide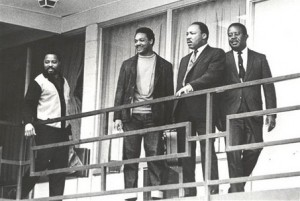 It was the fatal shot that rocked the world on April 4, 1968. What started out as just an ordinary day, became one to remember, as the brutal reality of Dr. Martin Luther King Jr.'s assassination spread throughout the nation like a raging forest fire.
The .30 caliber rifle bullet that pierced his right cheek, traveled through his neck, and finally stopped at his shoulder blade ended King's life, but not his legacy. Forty-six years later, many people alive during that time can retell the story of just what that day was like, while some members of a younger generation struggle to recall what that date signifies at all.
Arnita Brown, who was 10 years old at the time, remembers that Thursday like it was yesterday.
"Dr. King meant everything to the people in my community," the retired Baltimore City public school teacher said. Brown is a grandmother of eight and great grandmother of six. She occasionally tells this story to her family.
This is how Brown recalls that day: She was sitting between the legs of her older sister, Bernice, propped on a pillow as Bernice braided Arnita's hair in the family room of their single family row house in the Cherry Hill section of South Baltimore.
"If you don't sit still 'Nita, everybody in the neighborhood is going to say you have crooked braids," she remembers Bernice saying.
"Oh hush, Bern! If everybody is going to say my braids are crooked, it's because you can't braid straight," Arnita countered, squirming and trying to find a comfortable position on the floor. She hated when her sister did her hair. If it was up to her, she would wear her hair in a thick unkempt afro and not have to worry about getting headaches or back cramps from sitting on the hard wooden floor.
A few feet away, Arnita's mother and two older sisters were preparing dinner. Her mother tossed chicken wings in a bowl of flour, while her sisters were busy peeling potatoes. On top of the refrigerator was a small brown radio that was turned down fairly low. It was the normal routine to start dinner about this time as the man of the house would be coming in from work soon from a laborious day of construction work.
Arnita continued to bicker with Bernice, when a shrill scream caused the girls to rush towards the kitchen. It was her second oldest sister, Anne screaming: "Oh my God! Did you hear that? They shot Dr. King, Mama! Did you hear that?" She had dropped a few potatoes on the floor, and one rolled near Arnita's foot. Anne grabbed a stool to turn the radio up. A frantic reporter confirmed what Anne had said: Dr. King had been shot.
The girls' mother rushed towards the front door to see if the neighbors had heard, and Arnita followed close behind. She knew the news was bad, but she didn't understand just how bad until she stepped outside.
Her neighbor, Mr. Jack, held a pistol at his side as he walked up and down the sidewalk saying, "Enough is enough!" A few other neighbors hung outside of their windows, screaming to one another that King had been shot. It was pure chaos. Arnita had never seen her neighborhood in such an uproar. She was scared. There were so many angry men, some who were armed, making plans to head into the city to take matters into their own hands.
After King's assassination various riots sprung up in major cities like Baltimore, Washington D.C, and Chicago. It was called the Holy Week Uprising and was a demonstration of the African American community's frustration and anger. The riots in Baltimore resulted in six people dead, 700 injured, 4,500 arrested, and over 1,000 fires set. Total property damage was estimated at more than $13 million.
Brown will never forget this day. But it's a clear sign of the times and the age gap between baby boomers and today's generation when many young people don't know the significance of April 4.
"April 4th is the day when Future's new mixtape comes out," says one young man wearing a pair of blue Beats by Dre headphones around his neck.
"Oh, that's the day MLK was killed… I had no idea," he says when prompted. "I guess it's true: You learn something new every day."
Troy Stackhouse, who attended Morgan State University in 1975 and now runs a bakery and catering shop in Arundel Mills, says things were different in his day.
"Can you really blame these kids for not knowing? I mean, I was a teenager at the time Martin Luther King was killed. I can remember coming home from playing baseball with my friends to my grandfather yelling and fussing around the house about King being shot in the head. It was crazy."
Stackhouse says that he even participated in some of the riots.
"Yeah, I joined some riots with my friends. I was angry because I felt disrespected yet again by white people. It's like they were trying to take everything from us. So, I wanted to take from them… I drove my bat into many automobiles in upper class white neighborhoods. It's not even funny."
He lights a cigarette and laughs it off. "You can't blame these kids for not knowing, because they weren't there."
Michael Carter, an honors student majoring in English at Morgan, says the history classes at the university are lacking.
"This is a historically black college. There is no reason for an African American student, or any student for that matter, to not know that Dr. King was assassinated on April 4th. Granted that in high school and middle school we are fed the same black history over and over that we kind of tune it out. That's still not an excuse for ignorance."