Commentary: Still Living
"The greatest rapper of all time died on March 9th" – Canibus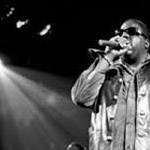 " If I ain't better than BIG, I'm the closest one" – Jay-Z
Canibus is a little known, underground rapper. Jay-Z is a hip-hop icon. And on both ends of that widely separated spectrum in the rap world, a common feeling is shared and understood. Christopher Wallace, a.k.a The Notorious B.I.G., a.k.a Biggie Smalls is considered by many to be the GOAT (Greatest of All Time).
While Jay-Z's line of homage was somewhat a boast to his own dominance on a mic, it was also an acknowledgement that no matter how incredible he believed himself to be at his craft, there was just one particular dude who he had to admit he might always come in second place to. If you're reading this article, then you of course already know who that dude is.
This won't be a Biggie biography; because there are already countless magazine stories, a Wikipedia page, a Behind the Music special, and a Fox Searchlight motion picture that tell that tale. And this won't be an argument to convince any hip hop lovers that Biggie has to go behind the 1 and the . on their "best ever" list, or it isn't valid, because everyone is entitled to their own opinion. This is an acknowledgement of two major occurrences that forever changed music in March 1997. The murder of Biggie Smalls and the release of THE BEST rap album ever, Life After Death.
Life After Death doesn't have to be your favorite rap album. It's not even this writer's favorite. That goes to Mobb Deep's The Infamous. But Life After Death is unarguably and unequivocally the pinnacle of what a rapper can do within a single body of work. It is everything that artistic masterpieces are made of.
The album by itself is surrounded by an aura of otherworldliness. It's called Life After Death, it was released 16 days after Biggie was tragically shot and killed, the album's intro is a skit of him flat lining in a hospital room and the cover is a photo of him in funeral attire standing next to a hearse. But mysticism isn't what makes it the one of a kind music event it is. It is the fact that over the course of 24 tracks (it's a double CD) Biggie manages to : show glimpses of a maturing individual while making beautifully obscene records; create brilliant collaborations while spitting in the face of his rivals; and celebrate life while displaying paranoia about his own death. And Biggie does all these things without once stepping out of his comfort zone or appearing to put on different facades to show different emotions.
One of Biggie's strongest selling points was his ability to walk a thin line between being a hardcore street artist and radio friendly. So Life After Death contained records like "Hypnotize" and "Mo Money Mo Problems", which still get spins at parties and on the air until this day. It also had "The World is Filled" which saw Biggie paired with well known male chauvinist Too Short as they traded stories of life from a pimp's perspective, "The Ten Crack Commandments" which had Biggie detail ten specific rules to live by for survival in the drug business, as well as "What's Beef" where Biggie talks about everything from needing two guns to go to sleep, kidnapping peoples children, and even comparing himself to Lucifer. Needles to say you probably won't hear any of those songs during daylight hours on 92Q. But Biggie masterfully playing both sides of the field showed just how far his range really was.
Another one of his gifts was his storytelling. In today's rap climate, it's hard to take artists serious when they claim they have personal ties with Colombian kingpins, but the stories Biggie told on Life After Death didn't seem that farfetched. Whether it was "Somebody Gotta Die" where he rapped about sneaking behind Puffy's back to avenge the murder of one of his friends from his hustling days, or "I Got a Story to Tell" where he comically relays how a late night session with a female turns into a fake robbery so he can escape when her husband comes home. But it's a little more than the believability factor of the songs that make them special. It's the vivid descriptiveness. Like on "****** Bleed," when Biggie dedicates the entire second verse to giving life to "Arizona Rob from Tucson who push a black Yukon and usually have the slow grooves on, mostly rock The Isleys". That attention to specifics set his stories apart.
Around the time of recording the LP, Biggie was at the height of his popularity, and didn't hesitate to remind his fellow rappers of it, whether he was taking shots at them or outshining them on the same track. "I Love The Dough" finds Biggie with a pre- superstardom Shawn Carter as they take turns boasting about the good life, and "Notorious Thugs" has Biggie with rap's most successful group at the time, Bone-Thugs-N- Harmony, duplicating their signature rapid-fire rhyme style without missing a step, sounding exactly like the other members. Biggie also made sure to keep boosting his unexpected, ladies man persona, catering to his female fans with the smooth, R. Kelly assisted "Tonight".  But, his confidence was most apparent on "Kick in the Door" with lines like, "Your reign on the top was short like leprechauns, as I crush so called willies, thugs, and rapper dons," and "Ain't no other kings in this rap thing, they siblings, nothing but my children, one shot they disappearing."
And with all this ground covered, there was still an inevitability that Biggie could not escape. The black cloud that hung over his personal life. It's no secret about the drama he was fully immersed in with rapper 2Pac and Death Row Records. And while he tried to downplay the situation with songs like "Going Back to Cali", which was home to enemies, he couldn't hide his obsession with all the danger that fame and success had brought his way. The last three songs on Life After Death are titled "My Downfall", "The Long Kiss Goodnight", and "You're Nobody Till Somebody Kills You", the first of which he raps about being murdered, and the grief it would cause his mother and daughter. That, combined with the overall theme of Life After Death shows an extremely gifted person in an extremely dark place.
However, it has been noted that true genius shines brightest in the darkest of places. And Biggie's worries were justified, as he was gunned down before he could even enjoy the release of his final project. But the culmination of a man almost prophetically seeing death come his way, and still being able to put his heart, soul, and pure, one of a kind talent into the album that would cement his legacy is something that happens once in a lifetime. That's why even fifteen years since his passing, Life After Death, THE BEST rap album ever, continues to give life to Biggie and his legacy. And his most inspirational song ever, "Sky's The Limit", where he raps, "If the game shakes me or breaks me, I hope it makes me a better man, take a better stand," shows exactly what kind of legacy he wanted to leave behind.