It's a Friday night. You've just been dismissed from your evening class and your stomach rumbles loudly. Your first instinct is to venture to the dining hall, but you remember that you're all out of dining dollars for the semester.  Only steps away from Martin D. Jenkins Hall, your feet carry you to Northwood treasure Sunny's Sub.
Simply known as "Sunny's," the restaurant has long been a landmark of the Northwood shopping center. Filling the bellies of Morgan State University students and Baltimore residents alike, the take-out is a safe haven for East Baltimore's hungry patrons.
"Sunny's is a well known carryout [in] the east side of Baltimore, many people see us as a staple of the community, that is why we reopened it," said Ian Jiang, manager of the restaurant.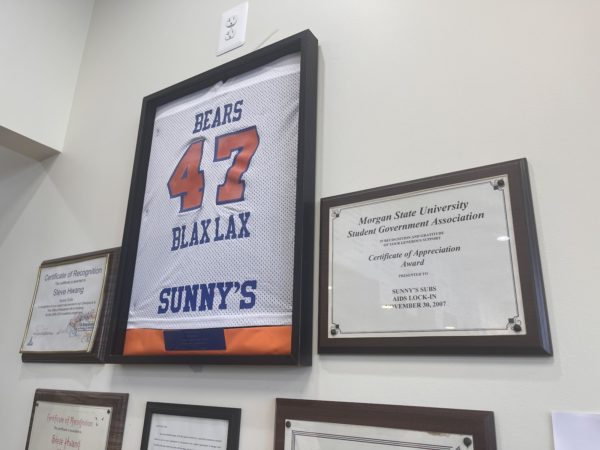 Jiang and his family have operated Sunny's for almost two decades, his face familiar to customers in the busy restaurant. He is astonished by the amount of customers that remember him from his early days behind the register.
"Many of our customers remember me when I was a little kid, now I am in my mid 30's," Jiang said.
The notorious carryout closed at the end of 2019 for renovations, but it officially reopened on Aug. 1, 2023 as one of the many businesses in the redeveloped shopping center, now known as Northwood Commons.
According to Jiang, Sunny's may have originally been open as early as the 1970's, though his family has only owned the restaurant since 2004.
Success has only grown since then.
"We knew Sunny's was going to be busy when we reopened, but we did not expect it to be this busy," he said. "It has been over a month since we reopened and it is still filled with customers and their love."
Jiang and his family marvel at the out-the-door lines they see daily. The restaurant serves chicken wings and fries in a "chicken box," a staple in Baltimore, along with chicken tenders, sandwiches, subs. A variety of sides are also offered, including several tasty finger foods.
"My favorite meal was the honey Old Bay chicken box," Morgan alumnus Alvin West said. "[Sunny's] was a cheap and quick option for many students who otherwise couldn't afford other places. At one point, Sunny's and McDonalds were the closest and only food options near campus without having to drive."
Courtney Souvenir Jr., another Morgan alum, fondly remembers Sunny's as an essential part of his memories at the university.
"[You] can't call yourself a true Morganite if you haven't had Sunny's. Northeast Baltimore has limited food options, that was one of the few places you could get a good bite to eat, so I'm happy they're back," he said.
As an important business in the community, Sunny's takes pride in contributing to the betterment  of the northeast Baltimore area by donating to schools and sports teams.
Many local residents and alumni admire the restaurant and are ecstatic at its reopening. One such resident is Kenneth Boone, a Baltimore local who has visited the restaurant for years.
"Sunny's has been around for many generations, my father and mother used to come down here," Boone said. "Famous people have been to Sunny's, it has been the bedrock of this community for a lot of years."
Boone is particularly happy that the restaurant hires African Americans from surrounding neighborhoods. "It is good that they are hiring people from this community because I never remember seeing that."
The Morgan community is included in these efforts. "We have three workers who are current Morgan students," Jiang said.
Now that the carryout has returned to Northwood, Sunny's continues to build upon its current legacy, keeping Jiang's family along for the ride.
"Sunny's has always been more than a restaurant. We are a part of the Northwood community, " the proud owner said.