Morgan State's NAACP marches on Washington to advocate for student debt cancellation
Morgan State's NAACP chapter joined local university chapters at the Capitol on Tuesday to fight for student debt cancellation.
In its 84 years gracing Morgan State University's campus, the university chapter of the National Association for the Advancement for Colored People (NAACP) has been a notable force in school culture.
On Feb. 28, Morgan State's NAACP chapter and several other local chapters took to the Supreme Court to voice their concerns on student debt cancellation, an ongoing issue that has riddled our nation for decades.
"It was certainly impactful for [The NAACP] to be a part of something that affects us Morgan and other HBCU students mentally and physically," Serena Chapple, senior multimedia major and NAACP event director, said.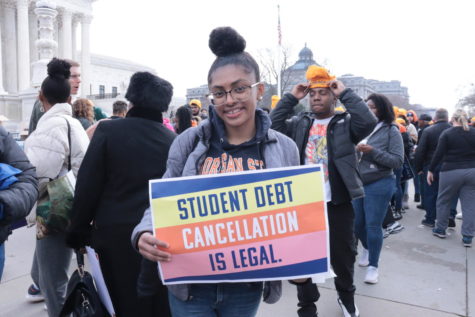 Government officials like Bernie Sanders and Congressman Maxwell Frost rallied alongside the group of protesters on Tuesday.
This isn't the first time the organization has rallied on Washington for change. In the fall semester, they marched on Washington to advocate for affirmative action and protect equal employment and education opportunities for disadvantaged individuals. 
Throughout the year, the Morgan State chapter hosts countless events and deeds of community service.
"The NAACP is helping students on campus get their voices heard," Lenae Wharton, senior psychology major and NAACP general body member, said. "We've done various activities on campus to essentially spread awareness about different things that people may not be aware of or that directly affect the student body."
When it comes to acts of protest, the NAACP feels like they are supported by the university administration, including the university president himself. Both organization board members and general body members have expressed their gratitude. 
"I feel like [Morgan's administration] is 100 percent supporting what we do," Kemauri Batson, junior nursing major and NAACP treasurer, said. "I know our president David Wilson has been encouraging us. We always get an excused notice from class because we're genuinely fighting for our peers. We're not only [protesting] for our generation, but we're doing this for future generations as well."
Morgan State's chapter of the NAACP has no intention of stopping their activism efforts, ensuring that all students are represented and their voices are heard.