Magic Johnson to visit Morgan State, SodexoMagic on Monday
Magic Johnson, basketball superstar and owner of SodexoMagic, prepares for a visit to Morgan State University.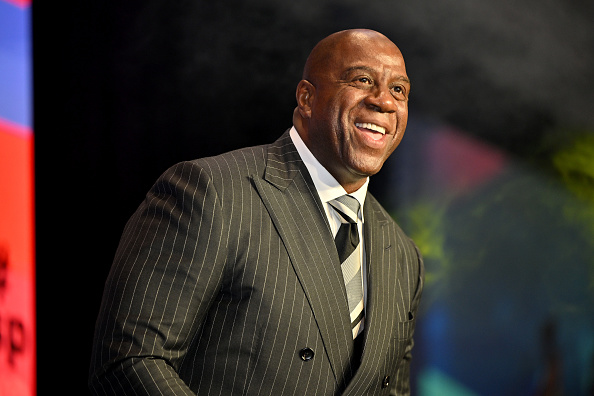 Earvin "Magic" Johnson, five time NBA champion, will set foot on Morgan State's campus on Monday to tour the campus where his company SodexoMagic serves as the university's dining services provider. 
During his visit, Johnson will also meet students and administrators. 
Johnson spoke with The Spokesman on Wednesday to discuss how he plans to influence HBCU students through his company, SodexoMagic.
"[I want to] make sure I inspire young people to dream and dream then build an incredible strategy to make that dream come to fruition," said Johnson.
SodexoMagic was founded in 2006 and began its partnership with Morgan in 2020 with a five-year, nearly $45 million agreement that was unanimously approved by Morgan's Board of Regents. The conglomerate has partnerships with K-12 schools, healthcare and corporate facilities, and colleges and universities, including HBCUs. 
Morgan is now one of eight HBCUs partnered with SodexoMagic, including Grambling State University and Florida A&M University. 
In regards to his vision for SodexoMagic and HBCUs, he said he prioritizes employing students at HBCUs and looks forward to bringing in Chef G. Garvin, SodexoMagic's chief culinary advisor, to inspire students to cook healthier options for themselves.
On Monday, Johnson looks forward to seeing the new Thurgood Marshall Dining Hall where meals are served by SodexoMagic. 
"My main thing is making sure first that the students are happy with their meals and that the cafeteria is clean and safe and so food is good places clean and safe and everybody has a great dining experience," Johnson said.
As an NBA great, Johnson values learning from young basketball players and looks forward to meeting with both the men's and women's basketball teams during his visit.
"When I'm on a campus like Morgan State, I get something out of it as much as the young adults get something out of it," Johnson said. "I think we both help each other." 
Johnson is passionate about being a role model for Black students because he remembers what it was like to be in their shoes.
"Growing up in a small town and everybody telling me 'no way' first [that] I could make it to the NBA, and then second that I [couldn't] become a businessman," said Johnson. "So I love to prove people wrong."
"Nothing is out of your reach if you work hard and really get a good education and I'm living proof of that," said Johnson. 
Johnson said he plans to arrive at Morgan at 9 a.m. Monday morning.