Lidl opens its Northwood Common store a stones throw from Morgan campus
The German grocer opened its first city branch Wednesday, making groceries more accessible to Morgan students and Northwood community.
Shoppers began forming a line as early as 6:30 a.m. to be among the first to shop in the new Lidl in Northwood Commons.
Humid morning weather greeted The German grocer's grand opening Wednesday as city officials, Lidl executives and Northwood residents danced, chatted and celebrated.  
The Northwood branch is the grocer's first branch in Baltimore city and is one of the few grocery stores easily accessible to area residents and Morgan State University students.
Key Baltimore figures like Mayor Brandon Scott and Morgan State University President, David Wilson, came to celebrate the opening with the community.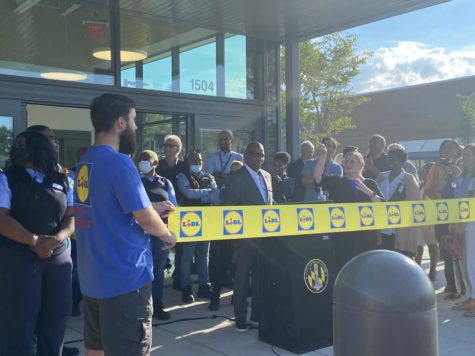 Morgan State University worked with developers and the Maryland Board of Public Works to see this project come to fruition. Wilson said he was looking for a market that met the resource needs of students.
"Redevelopment of this area [began] 10 years ago. We have been very relentless because I saw where our students had to buy food. They would have to go several miles. That was unacceptable." 
While Wilson acknowledged the benefits of this store for Morgan State students, he was persistent about combating Baltimore's food desert at large. 
Lifelong community members, like Deborah and Mark Scott, said many other grocery stores in the area have come and gone since the couple began their stay in Northwood. 
"We've been here for many years. We used to have a Giant on Hillen Road, but they left. There was Mars on Loch Raven, but this is even closer. It's just a few minutes away," they said. 
LaKebra Clark, a Northwood resident, came to see the transformation of the area she grew up in. Like Deborah and Mark Scott, she remembers the cycle of grocery stores sweeping through the area and believes that the new store will improve the community.
"To have a better, upgraded market is very needed for this community," she said.
Lidl is open daily from 8:00 a.m. to 9:00 p.m.