The MSU Spokesman 2022-2023 student government voter guide
Learn more about the 2022-2023 SGA candidates' initiatives, their plans to address student concerns, and their thoughts on recent donations to the university.
After two virtual election seasons, over 30 Morganites are campaigning for student government positions in person for the first time. 
 The Student Government Association (SGA) is hosting March Madness-themed election events to help students get to know the candidates. 
Additionally, many candidates hosted games and welcomed questions about their campaigns in the University Student Center this past week.  
There are students running for SGA positions at Morgan this semester between class elections, the royal court and the government's executive board.
Read about the SGA President and Vice President, Mister Morgan, and Miss Morgan candidates to prepare for elections on March 29.  
SGA President and Vice President 
The SGA president serves as the head of the executive branch of the student government. The vice president serves a dual role as the president of the senate and the co-chair of the executive branch.
Candidates: Kennedy Corley & Jailyn Bridgeforth, The V.I.S.I.O.N. Administration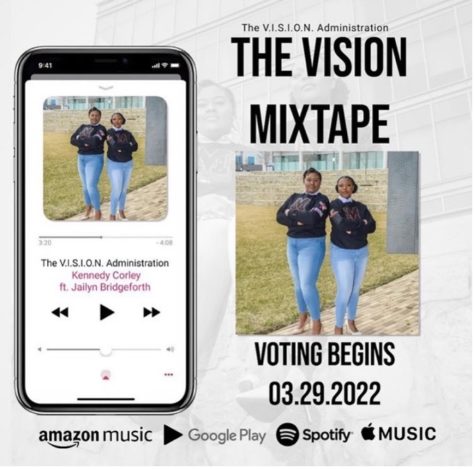 Kennedy Corley, a junior sociology major and Jailyn Bridgeforth is a junior elementary education major cultivated the V.I.S.I.O.N. administration in their president and vice president campaign.
Corley and Bridgeforth think the top concern for most Morganites is their wellness, including the academic, physical, and mental aspects. 
"Our administration wants to make sure that we're taking care of the whole bear," Bridgeforth said.
They plan to improve student wellness by expanding the recently implemented wellness days. 
Corley and Bridgeforth are both involved in executive board positions of their respective organizations and serve as resident assistants. 
The V.I.S.I.O.N. administration would like to see the money from recent donations to the university go to the students directly, whether it be through scholarships or funding student-led research projects. 
Candidates: Jaden Dawson & Sydney Beatty, The Get Back Administration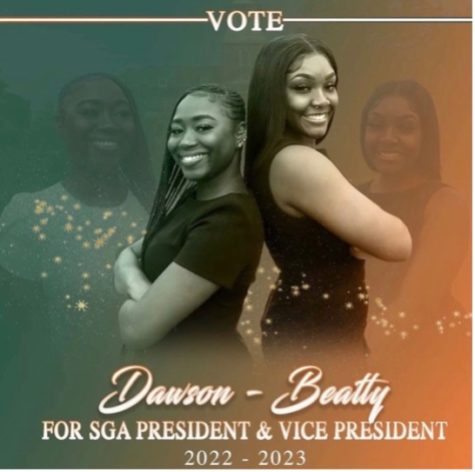 Jaden Dawson and Sydney Beatty are running for re-election as they campaign as the next SGA President and Vice President. The "Get Back" administration served as the president and vice president for their freshman, sophomore and junior class.
The Get Back campaign centers itself around three principles; tradition, student engagement and true Morgan spirit.
Dawson and Beatty pinpoint safety and student experience as the biggest student concerns. The Get Back administration seeks to work alongside MSUPD to increase patrol on campus, reduce response times through their accountability system and increase security at off-campus housing locations. 
Additionally, they'd like to spotlight student organizations and make students more aware of their resources and Morgan traditions through their Instagram page. 
In regard to recent donations to the university, the duo thinks the money should go towards grants and scholarships to increase retention. They also believe it should be used to update malfunctioning bathrooms, printing stations, heating systems, and more. 
"Any donation given to the university is someone donating to the matriculation of the students and to the success of the university. We are the university. Without students, the university would be nothing," Dawson said.
The duo emphasizes the need to hold President Wilson and our Board of Regents accountable for using that money to improve the student experience. 
35th Mister Morgan State University 
Mister Morgan is accredited as the official host of the university and is tasked with directing community service projects alongside Miss Morgan.  
Candidate: Ehidiame Akojie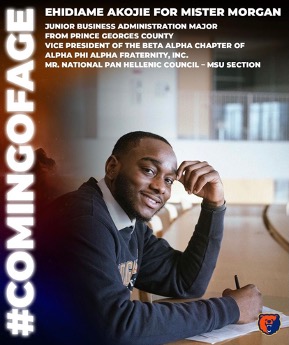 The first Mister Morgan candidate is Ehidiame Akojie, a junior business administration major. His platform is "Coming of Age" which represents each Morganite's journey towards prominence and maturity. 
If elected Mister Morgan, Akojie would usher Morganites through that journey. Akojie said, "Through mental health awareness, leadership development with our campus and Baltimore youth, as well as bringing together the Morgan family." 
Akojie serves as the Vice President of the Beta Alpha Chapter of Alpha Phi Alpha Fraternity, Inc. as well as Mister National Pan-Hellenic Council- MSU Section. 
If elected, he plans to address the underfunding of Baltimore schools by working alongside the school district to refurbish desks and chairs in the classroom and bring awareness of the lack of funding to city officials. 
Candidate: Rashashim Jibri Addae Gafney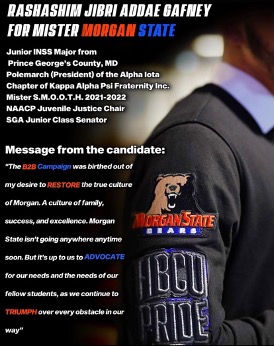 The second candidate for Mister Morgan is Rashashim Jibri Addae Gafney, a junior information science and systems major.
His platform, "Black 2 Business," emphasizes three key principles: advocate, restore, and triumph. Gafney encourages students to advocate for themselves to restore the true Morgan feel and ultimately "triumph over the obstacles that we have fought so hard to overcome".  
One of the issues he has chosen to amplify is the lack of representation of male leadership on campus. He feels there was a prominent male representation at Morgan his freshman year which has since diminished. 
If elected, Gafney said, "[I will] usher in the renaissance of the Morgan Man through my platform by showing students that there is someone genuinely invested in voicing their concerns and improving their experience at Morgan State." 
Candidate: Christopher Jones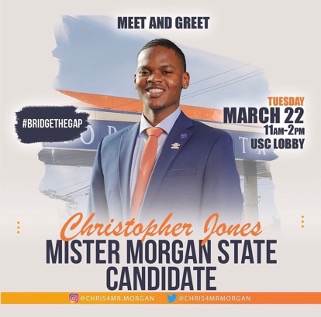 The final candidate for Mister Morgan is Christopher Jones, a junior psychology major. 
His platform, "the Bridge Campaign" represents his desire to bridge the gap between what Morgan was and what Morgan is to cultivate an enhanced experience for students. 
One issue Jones plans to address if elected is the disconnect from school spirit and Morgan culture. He plans to tackle this through events that highlight the true essence of the university.
Jones said, "These things create the Morgan culture that only Morganites can share."
78th Miss Morgan State University
Miss Morgan is recognized as the official hostess of the university and works alongside Mister Morgan to direct community service projects both on and off-campus.  
Candidate: Micah Caldwell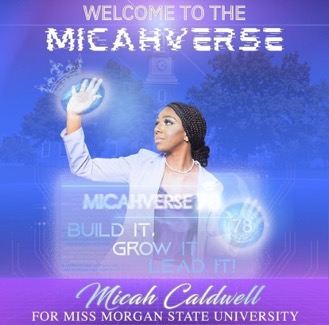 "Build It, Grow It, Lead It" is Micah Caldwell's brand in her campaign as the next Miss Morgan. The junior multimedia journalism major defines her campaign as the steps Morgan State students must take in order to create their perfect Morgan universe. 
In her universe, the "Micahverse," she plans to create a stronger connection on campus through community service projects, bring attention to under-recognized majors, and more. 
Caldwell is eager to bring more attention to women's sports by leading an "HBCU Women in Sports Symposium where Morgan women athletes are highlighted for the hard work and dedication they put towards their sport." 
Candidate: Kysha Hancock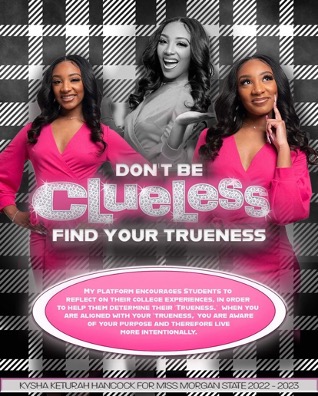 Kysha Hancock, a junior multimedia journalism major, leads her Miss Morgan campaign as "Don't be Clueless! Find your Trueness!" 
Her platform encourages students to use their past experiences to determine their purpose and path in life. 
Hancock is no stranger to the royal court and is currently serving as Miss Junior 2021-2022 after serving as Miss Sophomore 2020- 2021. 
If elected, she hopes to use the experience she has gained in those positions to address the food desert in Baltimore by setting up fresh fruit and vegetable stands to provide healthier options to students. 
Additionally, Hancock plans to address low test scores in Baltimore city schools by creating a tutor and mentorship program for students to help students academically.
In addition to the listed candidates, 26 other students are running for elected positions. These positions include:
Senior Class President and Vice President
Izahne' Williams and Melanie Battle
Junior Class President and Vice President
Adrian Phillips Jr. and Kayla Clark
Sophomore Class President and Vice President
Randolph Smith and Tamera Trimuel
Miss Senior
Guycilia Louis-Charles
Grace Dumas
Mister Junior
Tyler Hairston
Edwyn Johnson
Miss Junior
Mister Sophomore
Christian Ato
Xavier Washington
Miss Sophomore
Shakiya Lewis
Sandy Owusuansah
Senior Class Senator
Nakia Bailey
Rebecca Beavers
Teia Laney Harrington
Junior Class Senator
Brooke Foyles
Ishara Hall
Nia McKinney
Kennedi Sullivan
Crai-Symone Watson
Sophomore Class Senator
Sophomore Class Secretary
Kyli Ross
MarKayla Wilson