New additions and changes to Spring 2022 academic calendar
The registrar's office updated the university's spring academic calendar with a new first day of classes and four additional wellness days.
As the fall semester ends, the university is already preparing for the upcoming semester that will come with some new changes.
According to Farzad Moazzami, associate vice president for academic affairs, several changes have been made to the Spring 2022 academic calendar including a rescheduled first day of classes, additional wellness days and more.
On the academic calendar currently displayed on Morgan's webpage, the first day of classes is scheduled for Jan. 24.
However, with the new updates, classes are now set to begin Jan. 19. Along with an earlier start date, four wellness days have been added to the spring semester.
According to the student government association, wellness days are meant to "offer the most support and relief to students" by giving them a day to debrief from class assignments.
This past semester, the student government association worked with President David Wilson, Provost Hongtao Yu and Kevin Banks, vice president of student affairs, to include two wellness days into the semester. Now, the number of wellness days has doubled.
In the modified schedule shared by Moazzami, the calendar's changes are outlined in chronological order.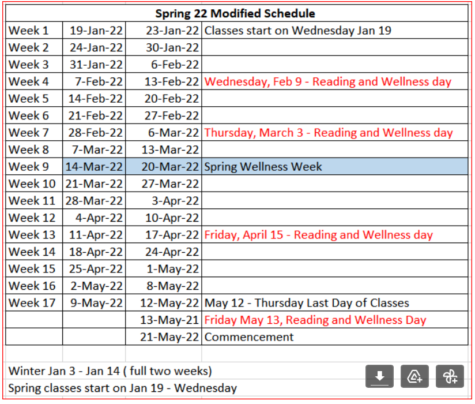 Starting with the winter 2022 schedule, the session will occur Jan. 3 to Jan. 14.
Instead of taking place between Jan. 5 to Jan. 20 as planned, the session will have a two-week timeframe.
In the spring semester, the university's wellness days will occur once amonth. The wellness days are scheduled on Feb. 9, March 3, April 15 and May 13.
Professors are instructed not to plan any assignments due on the designed wellness days.
The spring wellness week, also known as spring break, will take place from March 14 to March 20.
The last day of spring classes is Thursday, May 12 followed by the final reading and wellness day on Friday.
Spring Commencement is scheduled for May 21.
*Update: Keisha Campbell, executive director for enrollment services and university registrar, clarified the calendar changes were made at the request of the President and academic affairs leadership. Campbell said, "the Office of the Registrar did not make the decision to change the calendar but made the changes at the request of university academic and administrative leadership."
*Update: The provost, along with the Student Government association, decided to return the spring semester's start  date to Jan. 24, end date to May 13, and make changes to scheduled Wellness Days.