"People aren't getting tested because they simply don't want to": Less than 11 percent of student body regularly tested for COVID-19
A major decrease in positive COVID-19 cases could possibly be linked to low number of tests.
In the spring 2022 semester, vaccinated students and staff will be required to participate in the university's COVID-19 testing system, according to Anita Hawkins, associate dean of the School of Public Health and Policy, and Kevin Banks, vice president of student affairs.
However, there has been a noticeable decline in positive cases amongst students and faculty at Morgan State University since homecoming.
It has also been noted that a majority of students attending classes face-to-face on-campus have not tested for COVID-19 at all.
"People aren't getting tested on campus because they simply don't want to," says Arianna Hood, a sophomore Business major. "Whether that be their belief system, inclined laziness, or just little to no care."
The chart below provided by Hawkins displays two positive cases from Nov. 7 up until Nov. 13.
There are nearly 8,000 students enrolled this school year, meaning almost 90 percent have not taken advantage of testing on campus. The athletic department makes up more than 65 percent of the testing, as they are required to get tested three times a week by the National Collegiate Athletic Association (NCAA.)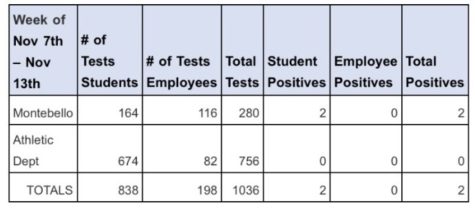 The new testing plan for next semester will account for commuter students, fully-vaccinated employees/students, and more importantly, students who reside in university housing.
"We actually started a trial lab Wednesday, Banks said. "20 students did PCR [polymerase chain reaction] and they were vaccinated."
Hawkins also expressed that people who refuse to test will be labeled as "non-compliant," and will be directed to the Office of Student Rights and Responsibilities (OSRR.) After students are directed to OSRR, students are given the opportunity to have a trial and depending on the scenario are subject to expulsion from the university. 
COVID-19 testing is available to all individuals on campus. It is required for all unvaccinated students and staff to get tested twice weekly. 
"I think [people are not getting tested] because it's not being forced," says Michaela Dickerson, sophomore education major. "People got tested in the spring because we were told we would face consequences if we didn't. But compared to in the fall, they're making it our choice." 
"I feel like testing should be mandatory because of everybody's safety," says Shamal Brown, sophomore business major. "People should get tested so that they can know they don't have it. [Required testing] will make the campus safer for everybody and we can still have tests."

This chart Hawkins provided shows the testing results from last week (Nov. 21 through Nov. 27), with which there were no positive results.
112 tests were administered at Montebello with 53 students and 59 faculty. The athletic department administered 114 tests with 85 students and 29 faculty, taking up more than half of the total amount of tests given. 
Testing is still available on Monday and Thursday from 9 a.m. to 3:10 p.m. at Montebello. To schedule a COVID-19 test, visit the University health portal. https://myhealthportal.morgan.edu/confirm.aspx