Theatre Morgan presents first in-person play since COVID-19 pandemic
The Theatre Arts program of Morgan's fine arts department performed Our Town this weekend.
Theatre Morgan's presentation of Our Town debuted this weekend, marking the program's return to in-person productions for the first time since the COVID-19 pandemic.
Our Town was written by Thorton Wilder, an American playwright and novelist with three Pulitzer Prizes, one for his work on Our Town.
The play focuses on the townsfolk of Grover's Corner, New Hampshire as they go through life with its triumphs and growing pains.
Our Town allows the audience to reflect on life, death, and to appreciate the finer things in the world around them.
As minimal sets and props are used for the production, the show invites the audience to use their imagination to bring the actor's actions to life.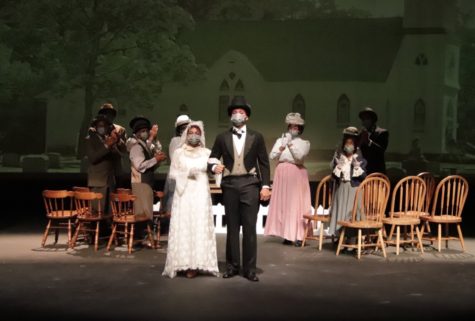 Director Reginald Phoenix explained his reasoning for choosing Our Town for Theatre Morgan.
"I've seen this play four different times and I wanted something that touched the heart," Phoenix said. "I wanted to do a show, after the year and a half that we had, I wanted to do a show about family, community, and people living everyday life."
Due to COVID-19 regulations, the cast wore masks during rehearsals and throughout the duration of their shows. In addition, the cast had eight freshman or first-time performers for Theatre Morgan's production of Our Town.
Despite the challenges faced in the process of production, Phoenix was confident in the show Theatre Morgan provided this weekend.
"It is simply not ideal, but we have had the experience of creating a wonderful piece of art," Phoenix said, "That's the goal, to create art not to put on a play."
Tickets are available in-person two hours prior to each performance and Morgan students got in free with their Bear card. The first show took place this past Friday at 7:30 p.m.
An additional showing will be held Sunday at 3 p.m.
Theatre Morgan's next performance will debut Friday, Nov. 19 at 7:30 p.m., as they present Maria La O.